The Flexible prototyping system uses LabVIEW as an integrated tool for managing system-level hardware and software details; visualizing system information in a GUI, developing general-purpose processor (GPP), real-time, and FPGA code; and deploying code to the research testbed. With LabVIEW, users can integrate additional programming approaches such as ANSI C/C++ through call library nodes, VHDL through the IP integration node, and even .m file scripts through the MATLAB Script node. This makes it possible to develop high-performance implementations that are also highly readable and customizable. All hardware and software is managed in a single LabVIEW project, which gives the researcher the ability to deploy code to all processing elements and run testbed scenarios with a single environment.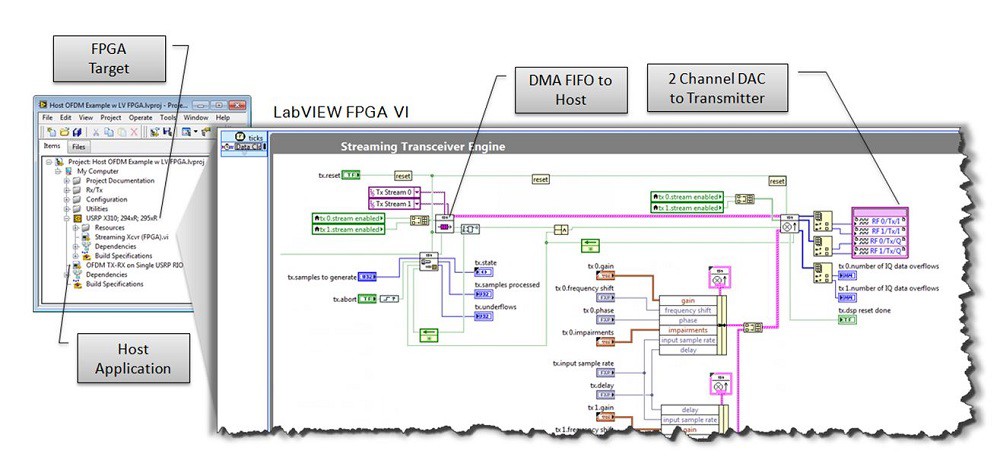 [+] Enlarge Image
Figure 2. LabVIEW Project and LabVIEW FPGA Application
Massive MIMO Base Transceiver Station Reference Design Architecture
The hardware and software platform elements above combine to form a testbed that scales from a few antennas to more than 128 synchronized antennas. For simplicity, this white paper outlines 32-, 64-, and 128-antenna configurations. The 128-antenna system includes 64 dual-channel USRP RIO devices that route data though PCIe switch boxes to a single PXIe chassis. The master chassis aggregates data for centralized processing with both FPGA co-processors and a PXI controller based on quad-core Intel i7. 
In Figure 8, the master uses the PXIe-1085 chassis as the main data aggregation node and real-time signal processing engine. The PXI chassis provides 17 slots open for input/output devices, timing and synchronization, FlexRIO FPGA boards for real-time signal processing, and extension modules to connect PCIe switch boxes. A 128-antenna Massive MIMO base transceiver station requires very high data throughput to aggregate and process I and Q samples for both transmit and receive on 128 channels in real time for which the PXIe-1085 is well suited, supporting PCI Generation 2 x8 data paths capable of up to 3.2 GB/s throughput.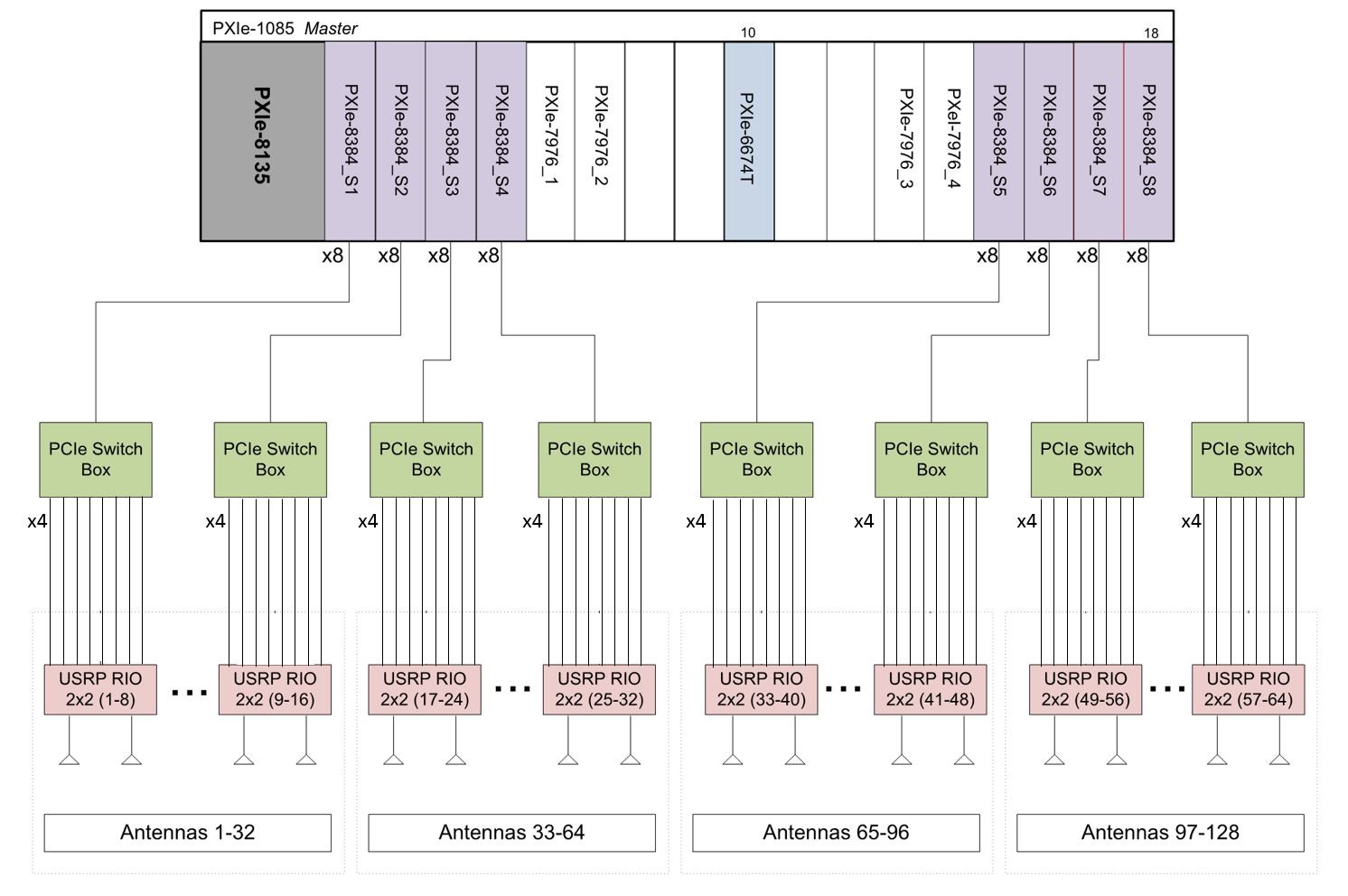 [+] Enlarge Image
Figure 3. Scalable Massive MIMO System Diagram Combining PXI and USRP RIO
In slot 1 of the master chassis, the PXIe-8135 RT controller or embedded computer acts as a central system controller. The PXIe-8135 RT features a 2.3 GHz quad-core Intel Core i7-3610QE processor (3.3 GHz maximum in single-core Turbo Boost mode). The master chassis houses eight PXIe-8384 (S1 to S8) interface modules to connect the PCIe switch boxes to the master system. Each switch box in turn aggregates eight USRP RIO connections. The connection between the PXI chassis and the switch boxes uses PCI Express Generation 2 x8, providing up to 3.2 GB/s between the chassis and each switch box. 
The system also features four PXIe-7976R FlexRIO FPGA co-processor modules to address the real-time signal-processing requirements for the Massive MIMO system. The slot locations provide an example configuration where the FPGAs can be cascaded to support data processing from each of the sub nodes. Each FlexRIO module can receive or transmit data across the backplane to each other and to all the USRP RIOs with < 5 microseconds of latency and up to 3.2 GB/s throughput per FPGA co-processor.
Timing and Synchronization
Timing and synchronization are important aspects of any system that deploys large numbers of radios; thus, they are critical in a Massive MIMO system. The base transceiver station system shares a common 10 MHz reference clock and a digital trigger to start acquisition or generation on each radio, ensuring system-level synchronization across the entire system (see Figure 9). The PXIe-6674T timing and synchronization module with OCXO, located in slot 10 of the master chassis, produces a very stable and accurate 10 MHz reference clock (80 ppb accuracy) and supplies a digital trigger for device synchronization to the master OctoClock-G clock distribution module. The OctoClock-G then supplies and buffers the 10 MHz reference (MCLK) and trigger (MTrig) to OctoClock modules one through eight that feed the USRP RIO devices, thereby ensuring that each antenna shares the 10 MHz reference clock and master trigger. The timing and synchronization architecture proposed offers very precise control of each radio/antenna element.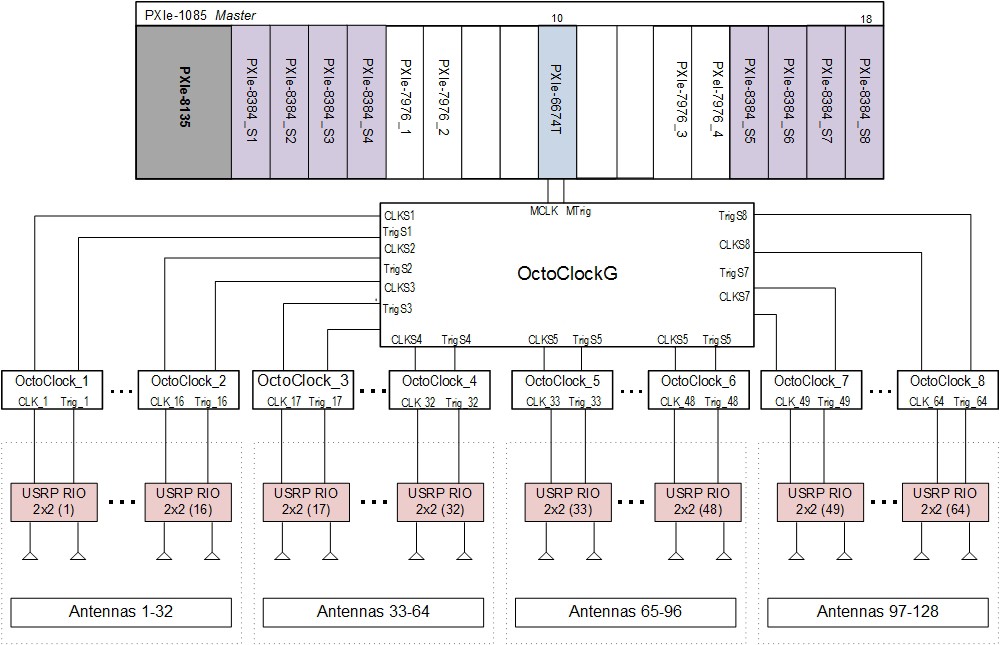 [+] Enlarge Image
Figure 4. Massive MIMO Clock Distribution Diagram
Table 2 provides a quick reference of the base station parts list for the 32-, 64-, and 128-antenna systems. It includes hardware devices and cables used to connect the devices as shown in Figure 1.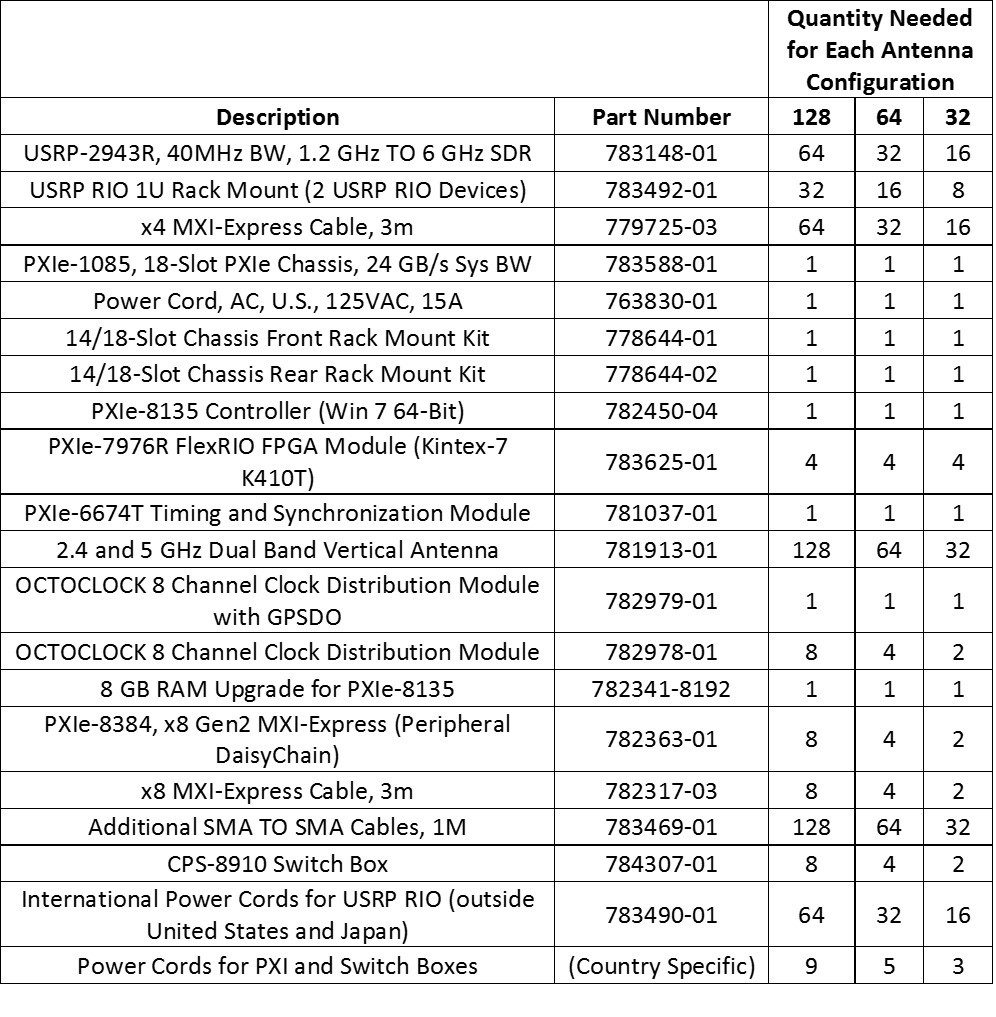 [+] Enlarge Image
Table 2. Massive MIMO Base Station Parts List