National Instruments offers many products that provide isolation for your measurement and automation application. Offerings include SCXI, SCC and Fieldpoint product lines, as well as high-voltage relays, switches, and DMMs. Most of the isolation products that National Instruments makes fall under the standards outlined by IEC 1010-1 and UL 3111-1, which address standards for measurement, control, and laboratory use.


SCXI for High Voltage Measurements and Isolation

Signal Conditioning eXtensions for Instrumentation (SCXI) is a signal conditioning and data acquisition system for PC-based instrumentation applications. An SCXI system consists of a shielded chassis that houses a combination of signal conditioning input and output modules, which perform a variety of signal conditioning functions. You can connect many different types of sensors and signals directly to SCXI modules. The SCXI system operates as a front-end signal conditioning system for PC plug-in or PCMCIA data acquisition boards.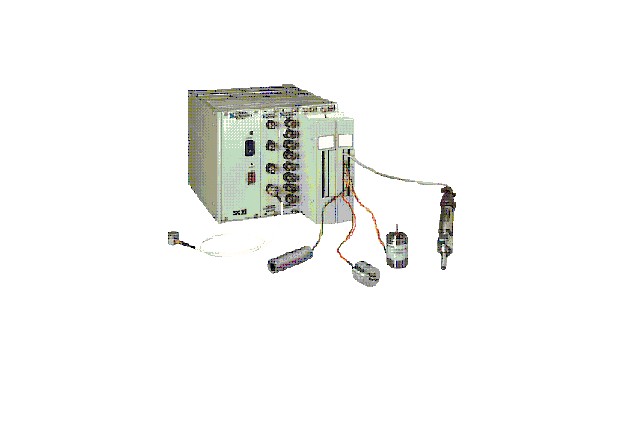 Figure 10.
SCXI Signal Conditioning and Data Acquisition System


The SCXI-1125 is an 8 channel isolated analog input module. The SCXI-1125 is CE certified as double insulated, Category II, providing 300 Vrms of working isolation between channels and channels-to-ground. The module also features programmable gains and low-pass filtering on each analog input channel, and the input range can be expanded to 1,000 VDC with the TBX-1316 terminal block. This architecture is ideal for amplification and isolation of millivolt sources, volt sources, 0 to 20 mA and thermocouples.

The SCXI-1121 and SCXI-1122 are designed for a wide variety of sensor and signal inputs requiring isolation. The SCXI-1121 offers independently configurable isolation amplifiers, filters, and excitation sources for each channel. The SCXI-1122 is a multiplexed module with a single isolation amplifier, filter, and excitation source for all channels. Both modules offer 250 Vrms working isolation and support strain, RTD, thermocouple, millivolt, volt and 0 to 20 mA current input signals.

SCC Isolated Products

National Instruments SCC is a portable, modular signal conditioning system for use with E Series and low-cost data acquisition (DAQ) devices. SCC products condition a variety of analog input and digital I/O signals. With this modular design, you choose your conditioning on a per-channel basis.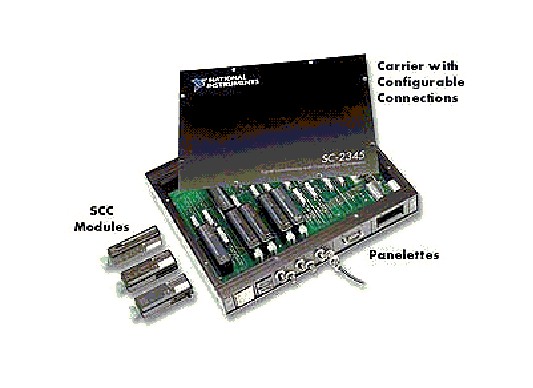 Figure 11.
SCC Signal Conditioning

The NI SCC-A10 is a dual-channel module that accepts input voltage sources up to 100 V. Each channel of the SCC-A10 includes a 10x attenuation circuit and differential instrumentation amplifier with low-impedance outputs for maximum scanning rates by the DAQ device. The attenuation circuit includes high-impedance bias resistors, so you can connect floating or ground-referenced inputs to the NI SCC-A10 without adding external bias resistors. The SCC-A10 also provides overvoltage protection (up to 250 Vrms) for your DAQ system. SCC-AI analog input modules provide 300V of Category II isolation. Each module provides low-pass filtering and input ranges from ±50 mV to ±42V.


Fieldpoint for High Voltage Measurements

National Instruments FieldPoint and Compact FieldPoint are modular, embedded control and distributed I/O systems for measurement, control, and data logging applications that demand industrial-grade hardware with easy installation and configuration. Both Compact FieldPoint and FieldPoint feature built-in signal conditioning for direct connectivity to sensors and actuators. Modules are available for connecting to thermocouples, RTDs, strain gauges, 4-20 mA signals, high voltage sources, and many other signals. The FieldPoint products support both embedded control by running LabVIEW Real-Time on a dedicated embedded processor and connectivity to a PC via a variety of industrial buses (Ethernet, serial, CAN, Foundation Fieldbus). The FieldPoint products are designed to operate in harsh environments with electromagnetic noise, wide temperature ranges, and high shock and vibration.

The FieldPoint product lines can measure and switch high voltage signals. All the modules are isolated from the backplane with 250V working isolation and 2300V transient over voltage protection. The [c]FP-AI-102 is a 12 bit analog input module capable of measuring +/- 120V DC. The [c]FP-DI-330 is a digital input module for up to 250V AC or DC, and the [c]FP-RLY-420 and FP-RLY-422 are relay modules capable of switching up to 250VAC and 120 VDC.








Figure 13. FieldPoint Industrial Control and Measurement