No compromise was made in offering high-stability, metrology-class DC and AC voltage function. Several factors contribute to the FlexDMM achieving this performance:

The availability and quality of miniature surface-mount, high-performance, precision components has improved dramatically over the last 10 years
Smaller, tightly laid out electronic packaging actually improves performance, especially thermal tracking between precision components
The use of the FlexADC and DSP for ACV computation and frequency response calibration simplifies input signal conditioning into a common path, reducing components, complexity, and switching
The lack of a "Front-Rear" switch (common in box DMMs) simplifies the input layout, reduces critical circuit signal path resistance, and improves signal integrity
The power supply, a common component in a PXI system chassis, does not consume space on the measurement module
High-Voltage Architecture
With the NI PXI-4071, you can measure 1000 VDC and 700 VAC Trms at CAT I levels. To accurately measure 1000 V in an ultrasmall PXI module, you must consider component breakdown, voltage spacing, attenuator designs, and power dissipation limitations in the front-end circuitry.
Single 10 MΩ Input Attenuator
Traditionally, DMMs use both 1 MΩ and 10 MΩ attenuators in their front-end signal conditioning circuits. A 1 MΩ attenuator, when used to provide the signal conditioning for a 700 VAC signal, dissipates more than 0.5 W. This is a difficult requirement for a miniature precision component. Controlling temperature-coefficient-induced errors is a challenge even for a physically large component. Hence, eliminating the need for the 1 MΩ attenuator is required. Another important reason why 1 MΩ attenuators are used in traditional DMMs is the wide AC bandwidth. Traditional 10 MΩ attenuator designs cannot attain the same level of AC bandwidth achieved by 1 MΩ attenuator designs.

The PXIe-4081 FlexDMM incorporates an innovative scaled bootstrap design to null the attenuator capacitance that traditionally impedes wide bandwidth performance. This bootstrap, shown in Figure 8, is designed and carefully laid out to minimize stray capacitance loading the 100 kΩ attenuator leg of the input attenuator network RN. With the addition of the scaled bootstrap formed by R1-R4, C1, and U1, flat step response is assured. Most importantly, the characteristic response achieved is very close to that of a single pole RC, which is important for digitizer and DC step response.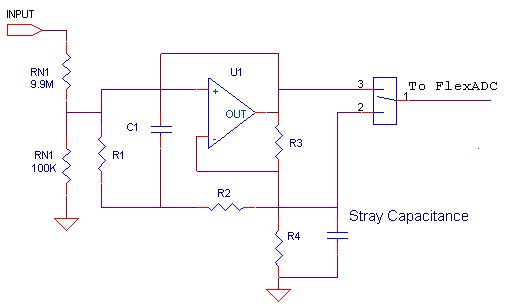 Figure 8. PXI-4071 Scaled Bootstrap

Secondly, the PXIe-4081 uses the digital AC DSP flatness correction to compensate the residual attenuator flatness without the use of compensation capacitors. These two compensation techniques deliver an order of magnitude improvement over what would otherwise be possible given the requirement that the single attenuator be capable of passing ACrms, precision DC, and digitizer signals.
Component Breakdown and Voltage Spacing
One of the most daunting enemies to high-voltage measurement is range selection switch (relay) breakdown. Traditionally, DMMs use high-voltage relays. High-voltage relay switching and high reliability are not easy to achieve together in any package, let alone a miniaturized one.

To meet both of these requirements, the PXIe-4081 implements a novel new solid-state device for range selection capable of withstanding well over 1000 V in the off state. This device has none of the traditional reliability problems of electromechanical relays because there are no contacts to be damaged by high-voltage switching, and no contact life limitations. The secondary benefit of solid-state input signal conditioning is excellent low-level DC thermal performance, an unheard of combination in any 1000 V DMM presently available for less than $5,000 USD.

By moving to solid-state high-voltage switching, eliminating the need for a 1 MOhm divider, and using DSP to eliminate calibration components, you can meet voltage spacing requirements with the increased availability of board surface and bulk area. You can now adjust the layout to meet the CAT I requirements for 1000 V PXI instrumentation.
DC Noise Rejection
DC noise rejection is an exclusive NI feature available for DC measurements on all FlexDMM devices. Each DC reading returned by the FlexDMM is actually the mathematical result of multiple high-speed samples. By adjusting the relative weighting of those samples, you can adjust the sensitivity to different interfering frequencies. Three different weightings are available – normal, second-order, and high-order.
Normal
When you select normal DC noise rejection, all samples are weighted equally. This process emulates the behavior of most traditional DMMs, providing good rejection of frequencies at multiples of f0 where f0 = 1/taperture , the aperture time selected for the measurement. Figure 9 illustrates normal weighting and the resulting noise rejection as a function of frequency. Notice that good rejection is obtained only very near multiples of f0.

Figure 9. Normal DC Noise Rejection
Second-Order
Second-order DC noise rejection applies a triangular weighting to the measurement samples, as shown in Figure 10. Notice that very good rejection is obtained near even multiples of f0, and that rejection increases more rapidly with frequency than with normal sample weighting. Also notice that the response notches are wider than they are with normal weighting, resulting in less sensitivity to slight variations in noise frequency. You can use second-order DC noise rejection if you need better power line noise rejection than you can get with normal DC noise rejection but you can't afford to sample slowly enough to take advantage of high-order noise rejection. For example, you can set the aperture to 33.333 ms for a 60 Hz power line frequency.

Figure 10. Second-Order DC Noise Rejection
High-Order
Figure 11 illustrates high-order sample weighting and its resulting noise rejection as a function of frequency. Notice that noise rejection is good starting around 4f0 and is excellent above 4.5f0. Using high-order DC noise rejection, you achieve almost no sensitivity to noise at any frequency above 4.6f0. A FlexDMM using high-order DC noise rejection with a 100 ms aperture (10 readings/s) can deliver full 6½-digit accuracy with more than 1 V of interfering power-line noise on the 10 V range at any frequency above 46 Hz. This is the equivalent of >110 dB normal mode rejection, insensitive to variations in power-line frequency.




Figure 11. High-Order DC Noise Rejection

Table 5 summarizes the differences between the three DC noise rejection settings.
| | | |
| --- | --- | --- |
| DC Noise Rejection Setting | Lowest Frequency for Noise Rejection | High-Frequency Noise Rejection |
| Normal | 1/taperture | Good |
| Second-order | 2/taperture | Better |
| High-order | 4/taperture | Best >110 dB rejection |
Table 5. DC Noise Rejection Settings

AC Voltage Measurements
AC signals are typically characterized by rms amplitude, which is a measure of their total energy. RMS stands for root-mean-square; to compute the rms value of a waveform, you must take the square root of the mean value of the square of the signal level. Although most DMMs do this nonlinear signal processing in the analog domain, the FlexDMM uses an onboard DSP to compute the rms value from digitized samples of the AC waveform. The result is quiet, accurate, and fast-settling AC readings. The digital algorithm automatically rejects the DC component of the signal, making it possible to bypass the slow-settling input capacitor. To measure small AC voltages in the presence of large DC offsets, such as ripple on a DC power supply, the FlexDMM offers the standard AC volts mode, in which the coupling capacitor eliminates the offset and the FlexDMM uses the most sensitive range.

The rms algorithm used by the FlexDMM requires only four periods (cycles) of the waveform to obtain a quiet reading. For example, it requires a measurement aperture of 4 ms to accurately measure a 1 kHz sine wave. The advantage brought about by this technique extends to system performance. With traditional DMMs, it is necessary to wait for an analog Trms converter to settle before you make a measurement. With the FlexDMM, there is no Trms converter to settle. The result is faster AC reading rates, and this advantage is realized in systems with switching.

The digital approach to rms computation offers accuracy benefits as well. The algorithm is completely insensitive to crest factor, and can deliver exceptionally quiet and stable readings. The FlexDMM guarantees AC accuracy down to 1 percent of full-scale, rather than the 10 percent of full-scale offered by traditional DMMs, and usable readings are obtainable even below 0.1 percent of full-scale.