Most semiconductor test applications with SMUs involve some form of source and measure action. When used in sequence mode, this typically involves the SMU sourcing a DC voltage or current, measuring the voltage and current, and then moving to the next point in the sequence. A basic DC sweep incrementally increases the output until the sequence is completed, as in the chart below, which shows a five-step sequence of current values.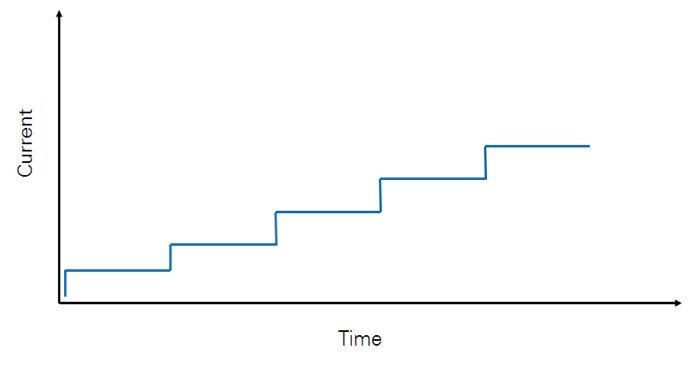 Figure 7. Example of a Five-Step Sequence During a Basic DC Sweep
Certain applications, especially high-power applications, can cause incorrect behavior or complicate test setup if you try and sweep through a sequence without turning off the SMU output. For these applications, a pulsed output of the SMU is preferred because it gives you the ability to still source and measure at various setpoints, while minimizing the heat dissipation through the DUT. A pulsed sweep and a DC sweep are similar in that you likely output a setpoint, wait for it to settle, and take a measurement. The main difference with pulse testing is that the source returns to a bias level after a short pulse duration. In most cases, bias level is set to turn off the DUT (for example, 0V or 0A).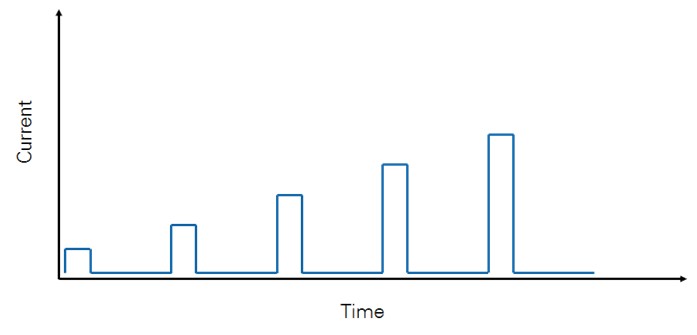 Figure 8. A pulsed output allows the source to return to a bias level before moving to the next setpoint.
Under ideal conditions, the pulse sequence and DC sequence in the above two graphs return the same IV data. However, as previously mentioned, the DC sequence dissipates more heat through the DUT, which can cause abnormal behavior and yield poor test results. This is why pulse testing is preferred for these types of applications. When testing in pulse mode, the pulse width should be long enough for your device to reach a full on state to take settled measurements, but short enough to minimize self-heating of the DUT. The importance of a fast, clean SMU response is magnified when pulsing because the SMU is always starting from the pulse bias level instead of gradually increasing the output in small, incremental steps.
Specific SMUs allow you to generate pulses outside of the traditional DC power boundary to address applications that require higher current. For example, the NI PXIe-4139 can pulse up to 10 A at 50 V for delivering up to 500 W of instantaneous power. Depending on the load and SourceAdapt control settings, pulse widths can be as short as 50 μs. These short pulse widths not only improve test execution time, but also minimize heat dissipation through the DUT, allowing test engineers to perform tests that otherwise might require heat sinks or other thermal control mechanisms.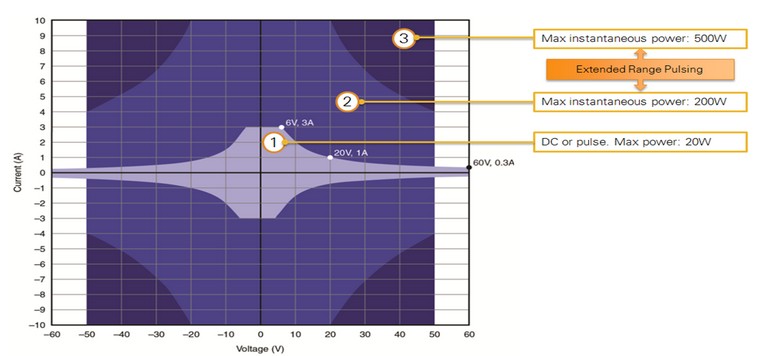 Figure 9. NI PXIe-4139 IV Boundary