When the data rate multiplier is configured for DDR operation, NI digital waveform generator/analyzer devices generate or acquire data twice per sample clock period. The digital waveform generator/analyzer trades channel count for data rate by generating or acquiring on half the number of channels but at twice the rate. The phase relationship of the data to the Sample clock is determined by the data position. While you can configure the data rate multiplier for acquisition and generation separately, you cannot have both SDR channels and DDR channels in the same direction.
As noted above, when using DDR the main consideration to account for is data width. Data width is a function of your data rate multiplier. Since data width refers to how large your sample is in bytes, using DDR mode effectively halves your allowable data width. For example, on a device with 16 channels, you can generate or acquire data on all 16 channels when using SDR. For the same device with its data rate multiplier configured for DDR, you can generate on only eight channels (channels 0-7) and acquire on the other eight (8-15).
The following figure shows a comparison of SDR and DDR: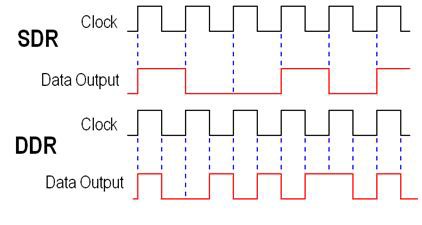 Figure 1 - The figure above shows how SDR and DDR work while sampling data on output.
Notice how the data output is generated on both the rising and falling edges of the clock when in DDR mode.