The different platforms are compared based on the following nine criteria:
Integrated I/O – the amount of I/O as well as the breadth (digital TTL, digital optoisolated, analog)
Fewer moving parts to maintain – fanless designs and solid-state drives are less susceptible to damage from vibration
Compact form factor – smaller size and fit can be physically designed into larger systems
Power consumption – total power drawn by system
Temperature rating – range of temperature system for which system has been validated
Acquisition bandwidth – maximum throughput at which images can be acquired into the system as defined by the combination of image resolution, bit depth, and frame rate
Maximum image size – maximum image size that can be acquired on the system with memory and processing limitations
Processing power – higher processing power is characterized by speed and number of cores or coprocessors
Integration with other measurements (for example, DAQ, motion) – direct RTSI connection and triggering and availability of other modules that can be placed into system (C Series modules, PXI modules, PCI boards) compared to integration through Ethernet connections to other devices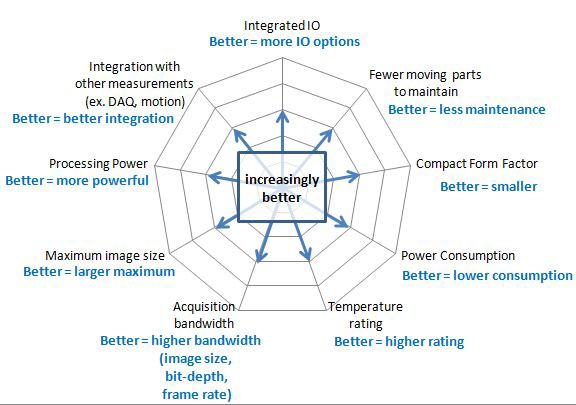 Figure 3. Reference Radar Diagram
The distribution of how well each hardware platform rates is spread differently across the criteria in the radar diagram. Interestingly, the area covered is approximately the same in each diagram, which can also be seen in the similar total scores in the Table 3.
 
 
Smart Camera
Compact Vision System
Embedded Vision System
PXI and
PXI Express 
Systems
Industrial PCs and Desktops
CompactRIO/
Single-Board RIO
Industrial Suitability
Integrated IO
(amount and breadth)
3
4
4
5
5
5
Fewer moving parts
to maintain
5
5
5
3
3
5
Compact form factor
5
4
3.5
2
2
4
Power consumption
5
4
4
2
2
5
Temperature
rating
4
4
3
4
3
5
Performance
Acquisition
bandwidth
3
3
4
4
5
1
Maximum image size
2
3
4
4
5
1
Processing power
2.5
3
4
4.5
5
2
Integration with
other measurements
(for example, DAQ, motion)
2
2
3
5
4
4
TOTAL
31.5
32
34.5
33.5
34
32
Table 3. Comparison of Ratings for All NI Vision Hardware Platforms
NI Smart Cameras

Figure 4. Radar Diagram for NI Smart Cameras
Features
Integrated processor and image sensor
Lowest power consumption
Dedicated vision hardware
DSP coprocessor on certain models for faster algorithm performance
Integrated digital I/O and built-in lighting control
NI Compact Vision Systems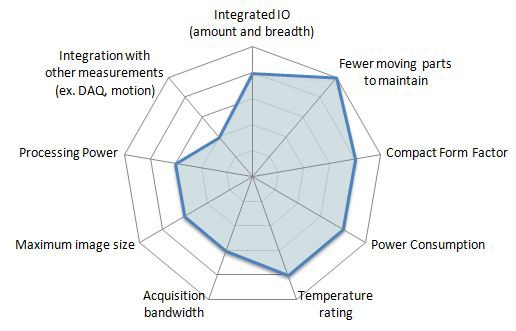 Figure 5. Radar Diagram for NI Compact Vision Systems
Features
Multiple tethered IEEE 1394 cameras
(cheaper than smart cameras for multicamera systems)
Dedicated vision hardware
Solid-state storage
29 reconfigurable digital I/O lines
Most compact tethered system
NI Embedded Vision Systems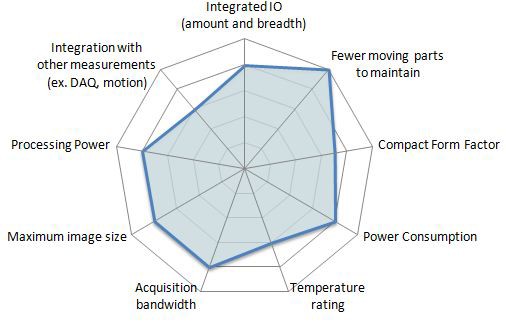 Figure 6. Radar Diagram for NI Embedded Vision Systems
Features
Multiple tethered IEEE 1394 cameras
(cheaper than smart cameras for multicamera systems)
Dedicated vision hardware
Dual-core processor and 2 GB RAM
Fanless design and solid-state storage
Many industrial communication and I/O options
PXI and PXI Express Systems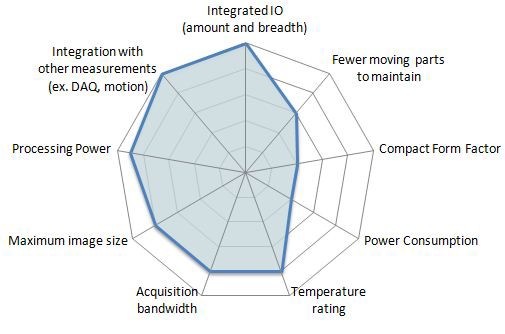 Figure 7. Radar Diagram for PXI and PXI Express Systems


Features
Support for all imaging standards
Unsurpassed timing, triggering, and integration with a star trigger, which is a high-performance trigger signal that can be used to synchronize all of the modules in a PXI chassis
Large availability of vision-related and nonvision plug-in boards
Industrial PCs and Desktops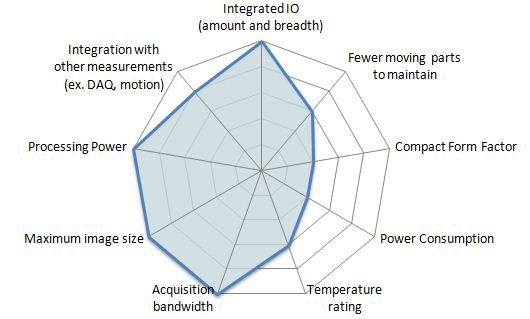 Figure 8. Radar Diagram for PC Systems
Features
Large availability of vision-related and nonvision plug-in boards
Time spent qualifying PCs for compatibility with plug-in boards
Shorter shelf-life availability than validated systems from NI (Embedded Vision System, PXI)
No need for plug-in boards if using integrated USB 2.0, USB3, IEEE 1394, [Gigabit] Ethernet ports
(although plug-in boards offer I/O and offloading)
Unlimited options for processors, memory, storage, and so on
CompactRIO and NI Single-Board RIO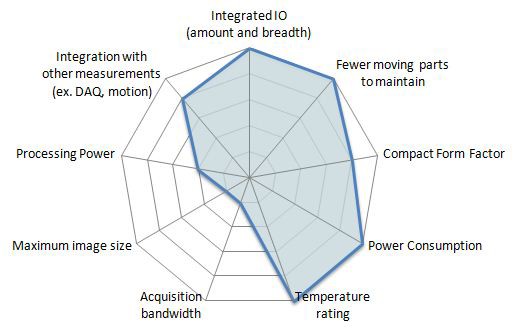 Figure 9. Radar Diagram for CompactRIO and NI Single-Board RIO Systems
Features
Modular I/O (mix and match based on application)
Temperature rated for -40 to +70 °C
NI Single-Board RIO is a board-only version suitable for OEM/embedded devices
Lower acquisition bandwidth and high image decompression load on processor
(currently suitable for acquiring jpeg formats using IP cameras)