The IC-317x has five Gigabit Ethernet ports. One is used for host communication, while four Power over Ethernet ports can be used with cameras or as secondary networks. The Ethernet port labeled PoE 1 on the IC-317x is the recommended connection for IEEE 1588 networks for optimal performance, as seen in the picture below. In MAX, this port corresponds to Ethernet Adapter eth1.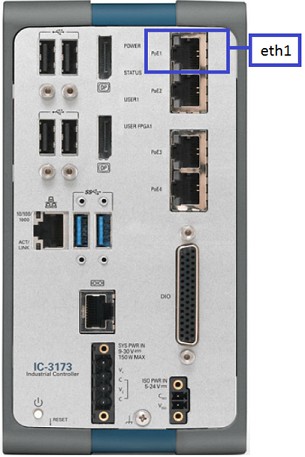 This adapter is recommended because it will result in the lowest possible jitter from the master clock. The IC-317x does not currently evaluate the best master clock between the PoE ports, so if there are multiple potential masters on the network, they should only be connected to one of the IC-317x PoE ports, preferably eth1, to ensure the best master is evaluated correctly. The system time of the IC-317x will be synchronized with the grand master when connected on one of the PoE ports.
The other PoE ports can serve as IEEE 1588 masters for their own networks; cameras connected to those ports can be slaves that are synchronized to the IC-317x time. All PoE ports on the IC-317x use a default 1588 priority 1 value of 128. If a camera has a priority higher than 128 and you want the camera to be a slave to the IC-317x time, you can manually configure the priorities of these ports by editing a configuration (.json) file on the IC-317x. See KB 6R5FP6SZ linked below on how to edit this file and view the IEEE 1588 status information for each connected port.
The host communication port, which corresponds to Ethernet Adapter eth0 in MAX, does not support IEEE 1588 synchronization. If your IC-317x is on a network with a grand master that should be ignored, it should be connected to this port.