A time reference is software on a device which manages synchronization using a supported synchronization protocol. NI-Sync is a driver which can be used to monitor and configure time references on a target. Time references have a few considerations which are helpful to understand:
A time reference is associated with an interface that can support it. For example, a TSN-enabled CompactRIO with two ethernet ports that support synchronization may have two 802.1AS time references, two 1588 time references, or one of each active simultaneously. A TSN-enabled CompactDAQ target has two ethernet ports, but they are bridged and effectively function as one. As a result, a TSN-enabled CompactDAQ target may have two ethernet ports but will only have one 802.1AS or 1588 time reference that applies to both ports.
A time reference is active when it is enabled. Enabling a time reference effectively turns it on and starts synchronizing time on the associated interface. If more than one time reference is associated with an interface, only one may be enabled at a time. Time references are enabled by default. If a 1588 time reference and an 802.1AS time reference are associated with the same port, the 802.1AS time reference will be enabled by default.
A time reference is selected when it is driving time on a device. No more than one time reference may be selected on a device simultaneously. If no time references are selected, the device time is free-running. A time reference can only be selected if it is enabled and acting as a slave. Time references are selected automatically when they become a slave on a synchronization network.
For embedded devices, the two supported time references are NI-TimeSync Time Reference for IEEE 1588-2008 and NI-TimeSync Time Reference for IEEE 802.1AS-2011. These time references may be installed to a supported Real-Time target through the Real-Time Software Wizard, and are available by default on cDAQ 9189/5 and FieldDAQ devices using firmware 18.6 and later. Only TSN-enabled devices support 802.1AS. Devices which are not TSN-enabled are capable of using IEEE 1588-2008 without hardware timestamping, but it will be less precise than on TSN-enabled devices.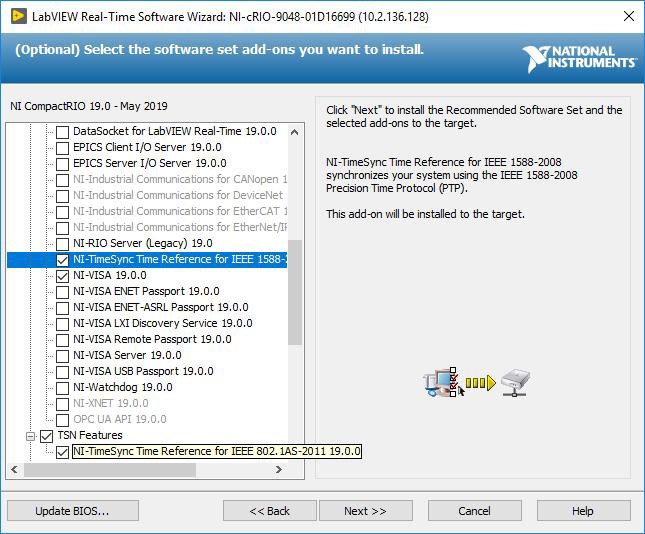 The NI-Sync API exposes protocol properties in the LabVIEW programming environment. The NI-Sync API can be used for monitoring and configuring time references starting with the NI-Sync 18.0 release. For instructions on configuring time references using older versions of the NI-Sync or NI-TimeSync driver, please refer to Using NI-TimeSync to Configure IEEE 1588 and 802.1AS Time References. 
Starting with NI-Sync 19.0, NI-TimeSync features are included in the NI-Sync 19.0 distribution and NI-TimeSync no longer exists as standalone software. The NI-Sync driver provides time references and examples to demonstrate how to monitor and configure time references. To install the NI-Sync API and time references for Real-Time targets, install the latest version of the NI-Sync driver on a host computer. If software older than version 19.0 is required, download the most appropriate version of NI-Timesync.