In addition to powering your system, you may want to incorporate power redundancy to ensure its continued operation through short-term power outages or to implement safe shutdown procedures with no loss of data. Most applications are fine without it, but if the cost of failure is high, you may want to consider adding it. Depending on which type of CompactDAQ or CompactRIO system you are using, you have a couple of options for adding redundancy to your system.
With the majority of CompactDAQ and CompactRIO controllers, you can use a dual-input power connector plug with a V1 for a primary power input and a V2 for a secondary power input. Check the product's user manual to see if the controller in question includes the dual-input power connector plug. This gives you the option of adding a second power source to your system, so it can still operate without disruption if your main power supply is no longer providing sufficient voltage, potentially due to a blackout or brownout situation.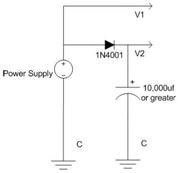 Figure 5. Dual power supply with capacitor circuit.
If the controller is using the primary power source, and the voltage level in between the V1 and common is less than 9 V, then the controller automatically switches to the secondary or V2 source. With this extra option, you can directly connect a secondary source such as a battery or uninterruptible power supply (UPS) to the system without having to rely on external hardware to make the switch instantly and continue powering the system. 
For CompactDAQ or CompactRIO systems with a single input power connector plug, adding redundancy to the system must follow the traditional route of adding a UPS to the system in line with the primary power supply. Or you can design and create your own external circuitry to switch between multiple power supplies.
When developing your CompactDAQ or CompactRIO application, one of your first considerations is whether you have access to grid power. If so, then you can decide if you need a desktop or industrial power supply. If not, start investigating which portable power supply to use for your application. Lastly, do not forget to consider adding power redundancy to your system to ensure continued system usage or implement proper shutdowns with no loss of data during short-term power outages.