The broad power boundary and high-precision specs of NI system SMUs allow you to address a majority of DC test requirements using a single instrument. Additionally, they expand on traditional SMU functionality by incorporating a fast sampling rate, a fast update rate, and NI technology for customizing the SMU response. This opens up a variety of applications for SMUs that previously required external instruments such as oscilloscopes, function generators, or highly specialized power supplies.
Specifications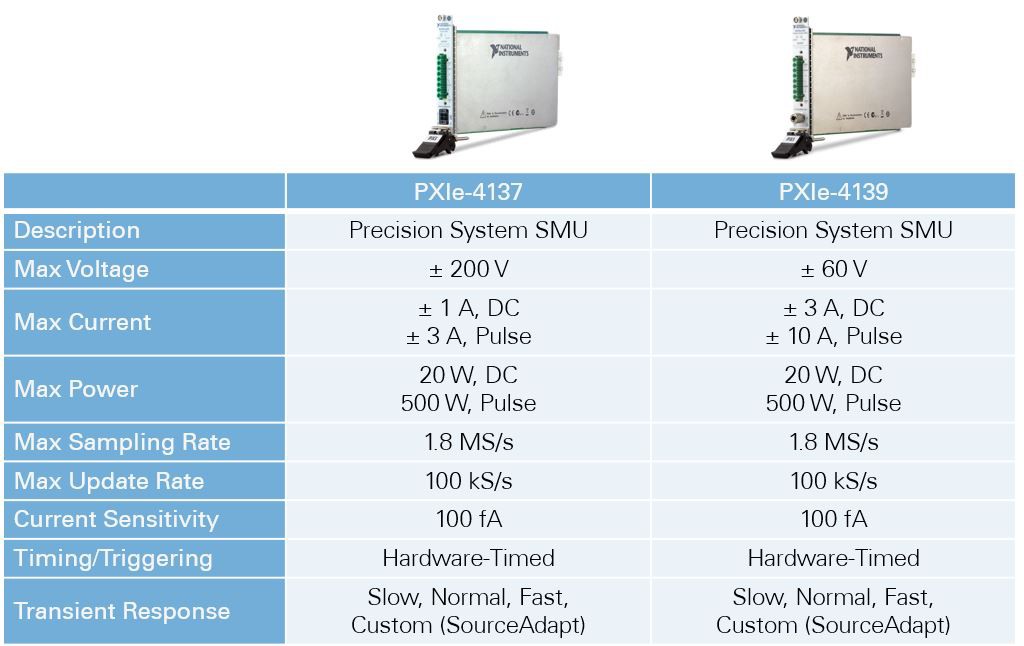 Features
Extended Range Pulsing
These SMUs can generate pulses up to 500 W, which gives you a way to quickly test the IV characteristics of high-power devices without cascading multiple SMUs. Testing in the extended pulse boundary gives you the ability to not only operate the SMU outside of its normal IV boundary, but also minimizes the amount of heat dissipated through the device under test (DUT) and reduces the need for thermal management infrastructure.
SourceAdapt
NI SMUs are equipped with a digital control loop technology called SourceAdapt, which gives you the ability to customize the control loop of the SMU and create the optimum step response for any given load—even highly capacitive or inductive loads. Removing overshoots helps protect the DUT while eliminating oscillations that are critical for system stability. Additionally, minimum rise and fall times help you achieve the fastest possible test times.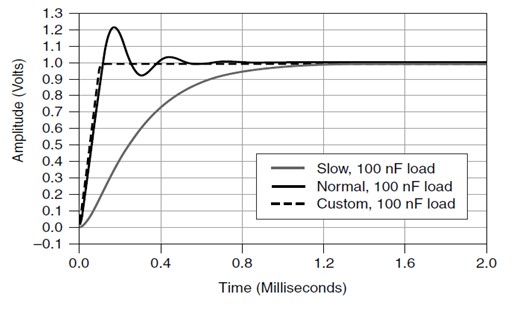 This feature is critical for powering highly capacitive loads without damaging the DUT or instrument. Traditional SMUs that use fixed, analog control loops can switch from "normal" to "high-capacitance" mode to prevent the SMU from becoming unstable. However, when operating in high-capacitance mode, the rise time of the SMU is dramatically throttled and the load capacitance is often still limited to 50 uF. Because SourceAdapt gives you direct access to the digital control loop of the SMU, you can optimize the SMU response for any load, even a 2,500 uF capacitor, as in the figure below.

The SMU in the figure above is sourcing voltage into a DUT with a 2,500 uF capacitor in parallel with a 2 Ohm resistor. The voltage rises to 3.3 V with a 10 A current limit, and settles around 1 ms. Without SourceAdapt technology, typical SMUs would become unstable in the presence of such a reactive load, and potentially damage the DUT or instrument.