National Instruments is committed to providing products and services that engineers can use to build test systems for the long term. The recommended solution is a five layer system architecture that was introduced in the executive summary of this guide. This section will highlight the main products and services that ensure support over the long-term. From a software perspective, the NI LabVIEW platform forms the core of all NI software. As a graphical programming language, NI LabVIEW is based on three basic steps that can be used to construct any test program – acquire, analyze, and present.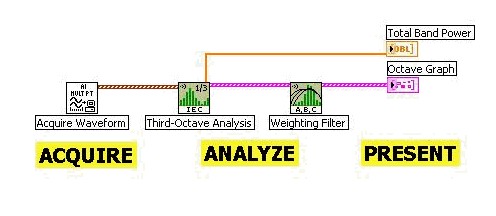 Figure 2. There are three steps to programming in LabVIEW.

For acquisition, LabVIEW has APIs, as shown in figure 2, for programming various NI hardware devices such as DMMs, RF instruments, digitizers, programmable power supplies, and multifunction data acquisition devices. Because these APIs are the result of cohesive efforts by NI hardware and software R&D engineers, they follow the same programming sequence. This consistency makes programming various instruments in LabVIEW menial and eliminates the need for programmers to learn the nuances of each instrument. Most importantly, it minimizes development time. To simplify the acquisition process even more, LabVIEW uses configuration wizards and follows the dataflow paradigm, making it simple and intuitive for first-time users to write test code.
In addition to acquisition, the LabVIEW platform offers hundreds of built-in analysis functions that cover different areas and methods for extracting information from acquired data. Programmers can use these functions as is or modify, customize, and extend them to suit a particular need. These functions are categorized in the following seven groups: measurement, signal processing, mathematics, image processing, control, simulation, and application areas. View the LabVIEW for Measurement and Analysis tutorial for more information on analysis tools in LabVIEW.
LabVIEW also has a vast number of abstraction features such as charts, graphs, knobs, and the ability to export data to data management software such as Microsoft Excel or NI DIAdem, which help present analyzed data to the user in a clear fashion. Data presentation also can be done between locations by making use of the LabVIEW ability to publish data to the Web or log information to a database. Cohesively, these features make LabVIEW scalable and ideal for building long-term test system architectures.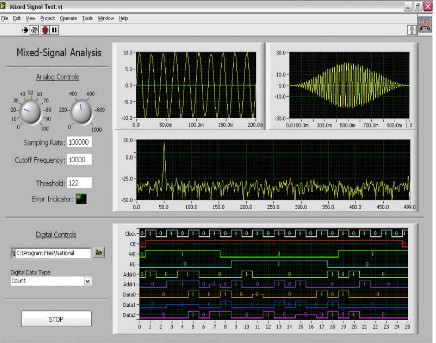 Figure 3: LabVIEW is an intuitive graphical programming language that provides tools such as charts, graphs, and buttons to abstract information for the user.

LabVIEW also comes with built-in features and add-on modules and utilities to help reuse existing code. These features include interactive configuration wizards such as Measurement & Automation Explorer and NI Switch Executive, which convert user input into data that is fed into LabVIEW test code, as shown in figure 4. Using such graphical configuration wizards, programmers can add hardware to programs by making changes to the configuration file rather than to the test program. This maximizes code reuse and increases development efficiency. In addition to configuration tools, the LabVIEW platform offers users a host of IVI class drivers to help maximize code reuse in the test program. For more information on IVI, visit the IVI page.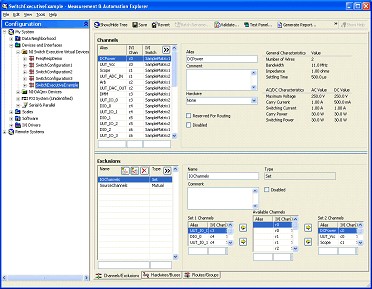 Figure 4. Engineers can use NI Switch Executive to configure and deploy a 9,216-crosspoint switch matrix within minutes.

The last requirement that software packages need to meet is platform independence. Complex test systems sometimes require precision instruments. When an NI solution for such instruments does not exist, programmers can make use of more than 5,000 FREE instrument drivers to program instruments from numerous vendors including Agilent, Fluke, and Keithley. Learn more on the Instrument Driver Network page. In this way, programmers can use the LabVIEW ADE to program instruments from multiple vendors, making it independent of the hardware platform. LabVIEW also supports multiple OSs and can be deployed on Windows, Mac OS, Linux®, real-time OSs such as PharLap, and even FPGA. The flexibility of LabVIEW is one of its biggest assets. Using traditional text-based languages programmed in Windows, on an FPGA, and on an embedded processor would require engineers to learn three completely separate languages (for example, C, VHDL, and TI Code Composer Studio™). Using LabVIEW, engineers can deploy applications on all three targets in the same environment, maximizing efficiency and minimizing time spent learning new tools.
For a test system to function, its software and hardware need to work in a congruent fashion by complementing each other. It is just as important to select the right hardware platform as it is to pick a powerful software tool when designing a test system for longevity. Using a flexible open hardware platform, such as PXI, minimizes the need for test system replacement as product life cycles end and technological advances are made. This increases test system longevity.
PXI is an open-standard platform used by various test and measurement industry leaders who are all members of the PXI Systems Alliance. Currently, the more than 70 companies worldwide that are PXI Systems Alliance members share a common commitment to providing an open platform equipped for a variety of applications, from machine control to automated test. Growth of PXI modules has been rapid since the adoption of the PXI standard in 1998, and today more than 1,200 PXI products are available. In addition to a vast product offering, PXI is also expected to continually grow for the foreseeable future. These PXI characteristics make it suitable for use in long-term test systems.
Its modular nature also makes PXI suitable for building test systems for longevity, as shown in figure 5. Expanding a PXI system to incorporate more I/O points or new testing capabilities is as easy as adding one of the more than 1,200 available modules to an empty slot in a PXI chassis, which is the outer frame of the system. Because all instruments are powered by the chassis, components such as the chassis fan and the power supply are reused to the maximum.
Figure 5. The modular PXI platform makes system expansion easy.

In addition to being an open standard and modular in nature, PXI has a wide span that addresses the needs of various applications from vision testing to high voltage and current testing (high-power applications) to even RF test. PXI modules can perform these tests with accuracies of up to 7½ digits (26 bits) and rates up to 6.6 GS/s. PXI instruments are also suited for mixed-signal tests that involve both analog and digital signals. Some modules also come with built-in signal conditioning for the measurement of sensors such as thermocouples, RTDs, load cells, and strain gages. The PXI platform also has FPGA modules and real-time capability, making it suitable for test applications that need determinism. To learn more about its capabilities and offerings, visit the PXI page.
Other modular platforms made by National Instruments include NI CompactDAQ, a low-cost alternative to PXI, and NI CompactRIO, an FPGA-based platform designed for high-speed control and deterministic test applications, as shown in figure 6. By designing modular system hardware that maximizes code reuse while catering to a vast number of applications, National Instruments provides test engineers with a selection of hardware platforms appropriate for designing long-term test systems.
Figure 6. Other modular platforms manufactured by NI include NI CompactDAQ and CompactRIO.

NI has a commitment to providing an array of quality hardware and software products that make designing test system architectures for longevity as easy as possible. NI makes every effort to support these products by providing calibration services, technical support, and numerous repair and warranty options.
NI also makes every effort to support obsolete products by providing technical assistance via the Web in the form of knowledgebases, tutorials and example code, and discussion forums and by offering drop-in replacements for hardware products that go "end of life." Using these services, NI hardware and software can be maintained and sustained over the long term.