The oscilloscope soft front panel provides scaling and position adjustment knobs for each of two channels independently. The source of each channel can be AI 0, AI 1, AudioInput Left, or AudioInput Right. The two AI channels are the differential inputs from the screw terminals on the side of the myDAQ unit, and the AudioInput channels are measured from the right and left channels of the 3.5mm Audio Input jack on the side of the myDAQ. 
Note: While the Oscilloscope can take measurements from either the screw terminal AI inputs or the Audio Input channels, the Scope cannot use both types of inputs at the same time.  For example, the scope cannot use AI 0 on channel 0 and AudioInput Right on channel 1.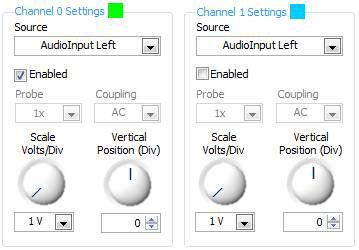 To enable each channel, click the Enabled box to place a check in it. Below this you'll notice that the probe setting will always be set at 1x, this is the only probe setting supported by myDAQ. For a different probe setting an NI ELVIS system must be used. You'll also see that the Coupling option will be set to DC for AI 0 and AI 1 inputs, or AC for the Audio Input channels.  This is due to the hardware inside of the NI myDAQ, and cannot be changed.  To learn more about AC and DC coupling, see the Developer Zone Article: AC and DC Coupling.
The final options in the Channel Settings windows adjust the Scale and Vertical position of each channel on the scope.  The available options when using a myDAQ are:
Scale (Volts/Division):
5V, 2V, 1V, 500mV, 200mV, 100mV, 50mV, 20mV, and 10mV when using AI Channels
1V, 500mV, 200mV, 100mV, 50mV, 20mV, and 10mV when using AudioInput Channels
Vertical Position (in Divisions): Variable by hundredths from -5 to 5 divisions.