Many corporate networks use Rapid Spanning Tree Protocol (RSTP) or Spanning Tree Protocol (STP) to implement network redundancy. The MES-3980 uses RSTP/STP (IEEE 802.1D-2004) for network redundancy and functions as a component within the corporate network.  With SNMP and RSTP enabled, redundancy and network reliability is controlled by your IT department. For Ethernet-based industrial systems that require rapid recovery less than 300 ms, a private subnet is necessary. For these applications the MES-3980 works with Turbo Ring™ communication redundancy.
Activating RSTP for Network Redundancy 
To activate RSTP, select Communication Redundancy on the Web Console and then select RSTP (IEEE 802.1W/1D) for the Redundancy Protocol. Select the port(s) that is connected to the corporate network and leave all other settings at default, unless requested by the network administrator, and select Activate. For more information on RSTP and the specific settings, see the MES-3980 User Manual.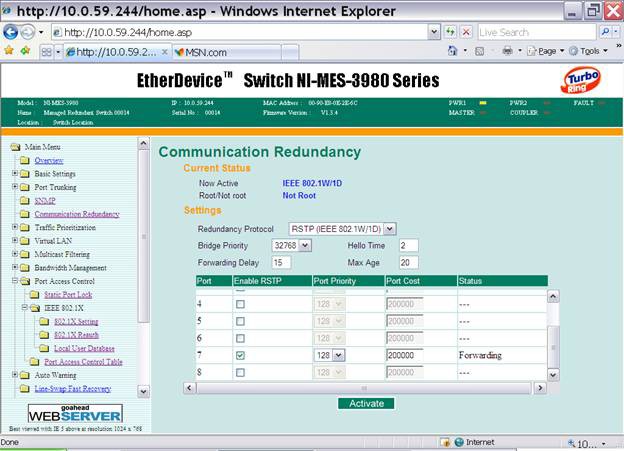 What Type of Redundancy Is Achieved?
This will provide network redundancy so if a layer 3 server or other router on the network fails, traffic to and from the MES-3980 will be rerouted to another router. This does not provide communication redundancy between devices connected to the switch.