Now let's analyze the effect of using a mismatched impedance component, like a 50 ohm switch, in the same system. The diagram of the new system is shown in Figure 6. All components are 75 ohm with the exception of the 50 ohm switch.

Figure 6. Switch with 50 ohm impedance added to the system
If we send the same signal we've seen in Figures 3 and 5 through this system, we will see the results as shown in Figure 7.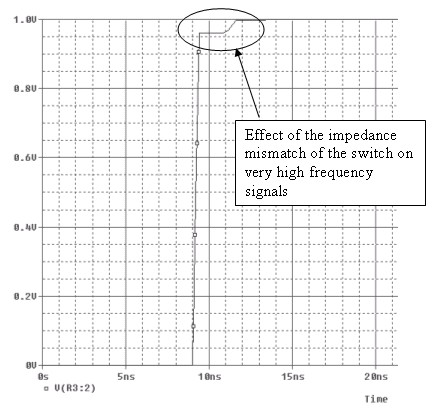 Figure 7. Voltage graph with unmatched switch impedance on a 500 MHz signal
The impedance mismatch of the switch created a step on the output voltage graph. The duration of the step is equal to twice the propagation delay of the switch. This is expected behavior – because of the impedance mismatch, a portion of the signal was reflected back to the source and is interfering destructively with the incident signal. This particular effect is often characterized by the term Voltage Standing Wave Ratio (VSWR) and is frequently specified on switch modules by themselves. In this case, it's not the VSWR of the switch that is reflecting the signal back, but rather the impedance mismatch that's creating the reflected wave. If the distortion caused by this effect is beyond the requirements of the application, it can be eliminated by matching the impedance of the system to the switch. The source must still have a characteristic impedance of 75 ohm, but every component including the load should now have a 50 ohm characteristic impedance (shown in Figure 8). This will minimize the distortion due to the impedance mismatch of the switch but will also result in a lower overall voltage measured at the load (due to the 75-50 ohm attenuation).
Figure 8. System with 75 ohm source, 50 ohm switch, 50 ohm cable and 50 ohm load
Figure 9. Voltage graph showing the difference between matched and unmatched impedances separate from the 75 ohm source at 500 MHz
Note that the distortion effect in the voltage graph appears only for signals with very high bandwidth. For instance, the dotted line in Figure 9 represents a signal with 500 MHz bandwidth. (On a signal with 30 MHz bandwidth, the dip only appears at 99.8% of the total voltage.) The same 500 MHz signal shows no visible dip when the other components of the system are matched at 50 ohms to meet the switch – only the reduction in total signal level. Because the reduction in total signal level can be calibrated out, the 50 ohm switch with 50 ohm cables and load can be an acceptable solution for testing high-frequency 75 ohm source outputs. Now, let's look at a case that relates directly to video switching. The common NTSC format for video operates at around 6 MHz. Using this in the simulation from Figure 6, the rise time of the source is increased to 166ns.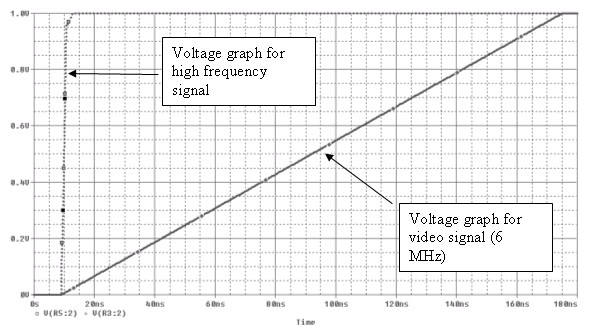 Figure 10. Voltage graph with mismatched switch impedance for high frequency signal and 6 MHz signal
In Figure 10, you can still see the previous high-frequency signal with the dip. The second plot, however, shows no effect on the voltage measured at the load of a 6 MHz signal. At lower frequencies, the destructive reflection interference described earlier is not present. (VSWR increases with frequency.)