The graph below is a sum of the time of execution across the 3 compilation options for the 14 compile jobs. As noted in a previous section, this compile time only includes the execution of the Xilinx compile tools and not the initial Intermediate File Generation stage. The LabVIEW FPGA VIs that comprise the 14 compile jobs range in complexity and resource utilization and result in compile times from 30 minutes up to 145 minutes.
The high-level results are that the summed compile time for the LabVIEW FPGA Compile Cloud Service was a 19% reduction as compared to the dedicated Windows FPGA compile worker. The dedicated Linux FPGA compile worker had a 32% reduction in summed compile time as compared to the Windows FPGA compile worker.
Additionally, a large high memory resource utilization FPGA VI compilation, not shown on the graph below, was also executed on all three compile options. Due to the high RAM available with the LabVIEW FPGA Compile Cloud Service, it was the only option that was successful in this compilation.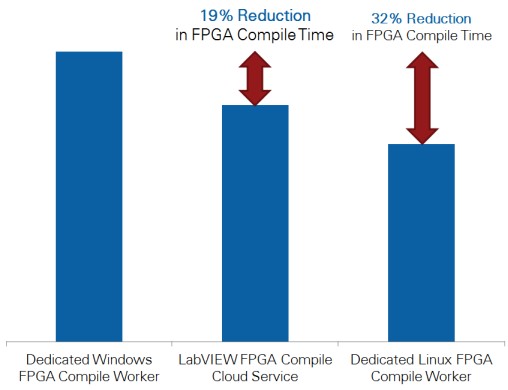 Figure 3. Benchmarking the different technologies to offload you FPGA compiles shows that the LabVIEW FPGA Compile Cloud Service reduces compile time by 19% and the dedicated Linux compile worker reduces compile time by 32% as compared to a dedicated Windows computer.
Note: Generally you will see even larger reductions in compile times when comparing compiling on your development machine to these offloading options. See more details in the Compile Time Tests section above.