Compact Vision Systems, CompactRIO, and NI industrial controllers are some of the products NI offers for vision systems. As mentioned earlier, processing power and number of cameras directly impact the overall performance of a machine vision system. To understand the differences between these products, you can compare their performance when used as controllers for a pick-and-place machine where one or many cameras are used to identify parts to be picked. The overall performance of this machine is measured in terms of the number of parts that can be identified per second.
The chart below shows the performance that can be achieved with this theoretical machine. The chart also shows a desktop-class processor to represent the performance that can be achieved with an actively cooled system versus a passively cooled system.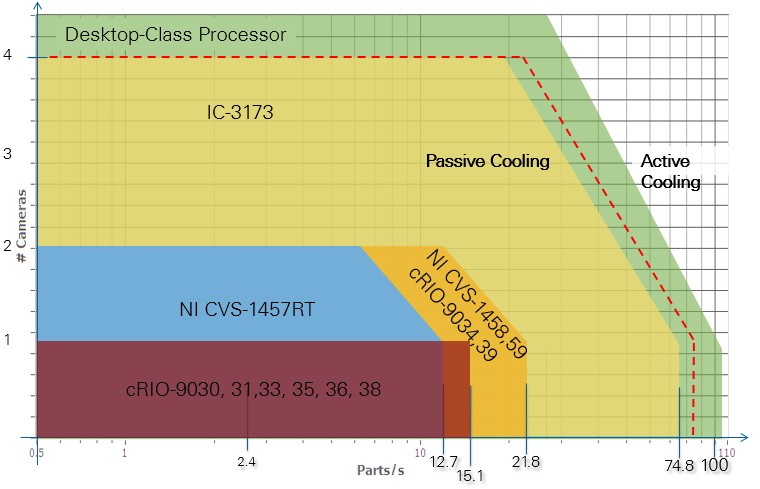 As you can see, the NI industrial controller offers performance close to what can be achieved by using a desktop-class processor all within a passively cooled package. Its abundance of ports for camera connectivity and high-performance processer make it the most powerful controller compared to the other products on the chart, but these are not the only features to consider.
Now, take a look at the integrated I/O, storage, and vision-specific features such as PoE for these products in the table below.
1Performance CompactRIO controllers also support USB3 Vision cameras that are USB 2.0 backward compatible.
2Although Compact Vision Systems and industrial controllers do not have integrated slots for C Series I/O, they can be used with an Ethernet or EtherCAT expansion chassis.
3Compact Visions Systems offer limited FPGA image coprocessing support, but because of small FPGA size and limited coprocessing bandwidth, the performance gains are small.
Your individual application needs dictate which controller is best suited for your application. A more detailed overview of each product is provided below.