The time it takes to learn a new piece of software is different for everyone. It depends on the type of software tool you choose and/or the language you use to program your instrument control applications.
Ready-to-run software tools are the easiest and fastest to learn because they have abstracted the programming details. When deciding among custom applications for your system, you should ensure that you have proper resources to help you quickly learn the tool. Some of these resources include user manuals, help information, online communities, and support forums.
Application development environments often take longer to learn, but you spend most of that time learning the language that is used within the environment to program your applications. If you can find an application development environment that uses a language you are already know, then you can definitely reduce the time required to become a proficient programmer. Many environments can integrate with and even compile several different languages within a single framework.
When evaluating application development environments that require you learn a new language, you should consider those that give you the ability to focus on the engineering problem at hand, rather than the low-level details of a programming language. Text-based languages, such as ANSI C/C++, are often more challenging to learn because of all the complex grammar and syntax rules that must be adhered to in order to successfully compile and run the code. Graphical system design software, such as NI LabVIEW, are often easier to learn because the implementation is more intuitive and is visually consistent to the way an engineer thinks.
ANSI C Code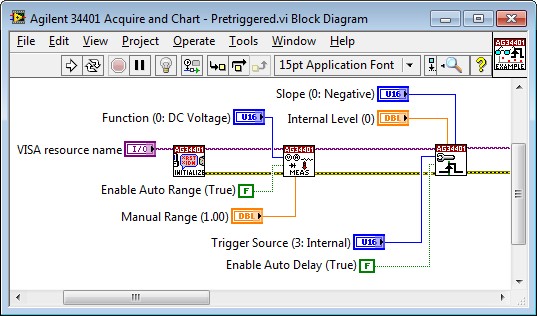 LabVIEW Code
You should also consider the getting started resources that are provided with the application software. These resources can help you get up and running with a new software tool in a shorter amount of time. Here are a few helpful getting started resources for any software tool:
Evaluation—A free software evaluation gives you the chance to test things out for yourself and determine if the tool meets the needs of your application.
Online Curriculum—Online tutorials, videos, and white papers are valuable for learning the basic concepts of application software.
Classroom Instruction—A class on the application software is the perfect way to get up to speed and begin developing your instrument control system. The price and level of detail that a course covers depends on the type of instructional setting. Often, you can find options ranging from free seminars to formal classrooms to instructor-led online courses.
Shipping Examples—Good shipping example sets have enough code for all of the most common types of instrument control applications. With these examples, you never need to start from scratch. You can save time by simply modifying the shipping examples to meet the needs of your system development.