In computing, multitasking is a method by which multiple tasks, also known as processes, share common processing resources such as a CPU. With a multitasking OS, such as Windows XP, you can simultaneously run multiple applications. Multitasking refers to the ability of the OS to quickly switch between each computing task to give the impression the different applications are executing multiple actions simultaneously.
As CPU clock speeds have increased steadily over time, not only do applications run faster, but OSs can switch between applications more quickly. This provides better overall performance. Many actions can happen at once on a computer, and individual applications can run faster.
Single Core
In the case of a computer with a single CPU core, only one task runs at any point in time, meaning that the CPU is actively executing instructions for that task. Multitasking solves this problem by scheduling which task may run at any given time and when another waiting task gets a turn.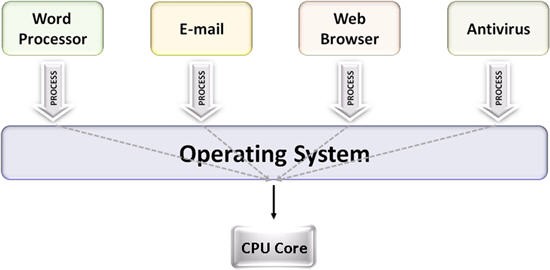 Figure 1. Single-core systems schedule tasks on 1 CPU to multitask
Multicore
When running on a multicore system, multitasking OSs can truly execute multiple tasks concurrently. The multiple computing engines work independently on different tasks.
For example, on a dual-core system, four applications - such as word processing, e-mail, Web browsing, and antivirus software - can each access a separate processor core at the same time. You can multitask by checking e-mail and typing a letter simultaneously, thus improving overall performance for applications.
Figure 2. Dual-core systems enable multitasking operating systems to execute two tasks simultaneously
The OS executes multiple applications more efficiently by splitting the different applications, or processes, between the separate CPU cores. The computer can spread the work - each core is managing and switching through half as many applications as before - and deliver better overall throughput and performance. In effect, the applications are running in parallel.