The principle behind ET is to operate the amplifier in compression as often as possible. This technique makes use of the fact that both the point of peak efficiency and the point of peak output power vary as the supply voltage changes. To illustrate this point, Figure 1 displays PAE as a function of output power for several Vcc values. The trend we observe is that the output power of peak efficiency increases with an increase in Vcc.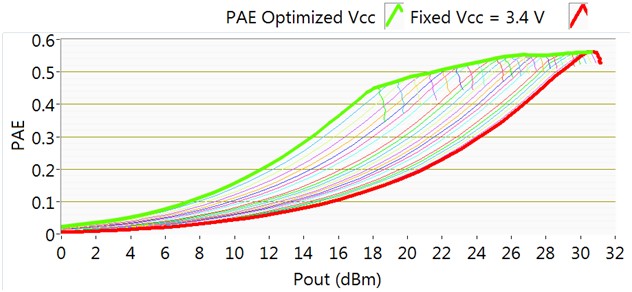 Figure 1 PAE vs. Pout across Vcc.
The basic idea of ET is to map instantaneous output power to an optimal Vcc value thereby maximizing the time the amplifier spends on the edge of compression. The theoretical PAE using ET for this particular amplifier is shown in Figure 1 as the green trace. As illustrated, the effective PAE is substantially better than the actual PAE when using fixed supply voltage. Based on this data, we can create a simple lookup table (LUT) that maps output power to a PAE optimized Vcc value (as shown in Figure 2). Note there is a lower bound placed on the Vcc signal at 1 V. This boundary has bandwidth implications explained later. While the idea of modulating the Vcc signal to maximize PAE is good in theory, this is difficult to execute in practice. A consequence of varying Vcc as a function of output power is that the amplifier's gain will dynamically change as Vcc is changed, thus increasing AM-AM distortion. This effect can be reduced by using a smaller range of Vcc levels, which leads to a design tradeoff between PAE and AM-AM distortion. DPD algorithms can be applied to the baseband RF waveform in order to correct for additional distortion introduced by ET.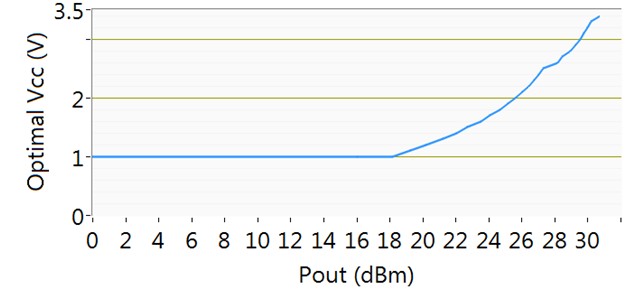 Figure 2 Optimal Vcc vs. power out lookup table.
The PAE results shown in Figure 1 were based on a continuous wave signal. Using these values and the probability density function (PDF) of power P(Pout) for a particular waveform, an expected PAE for a modulated signal can be estimated, as shown in Equation 1.

For use in this equation, Figure 3 shows the PDF for a test case 1 W-CDMA waveform with an average RF power of 0 dBm. By shifting this waveform to a specific average output power, we can estimate the efficiency of the amplifier with this particular modulated signal.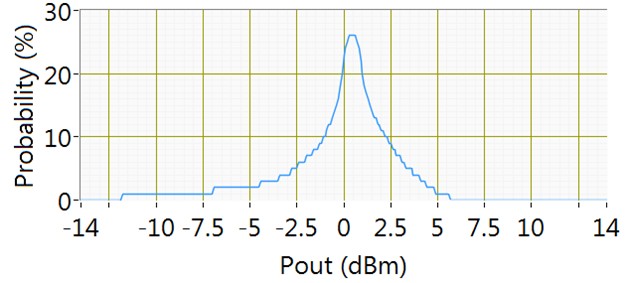 Figure 3 Test case 1 W-CDMA PDF.
This calculation treats PAE as a random variable and assumes that the PAE vs. Pout measurements are static, i.e., they do not vary in time. While the calculation in Figure 3 gives us a good approximation of PAE, actual PAE can vary slightly over time due to memory effects present in the amplifier and gain variation due to temperature. Figure 5 shows the measured vs. calculated PAE for the test case 1 W-CDMA modulated waveform at a fixed Vcc as well as the expected PAE under ET conditions assuming an ideal Vcc modulator. Note that the expected and measured PAE curves are very close and only begin to diverge at higher output powers. The discrepancy can most likely be attributed to memory effects within the PA. Comparing the expected PAE for an ideal ET power supply (green curve) to the measured PAE for a fixed supply (blue curve), we see that ET could theoretically achieve twice the efficiency over a wide range of output power.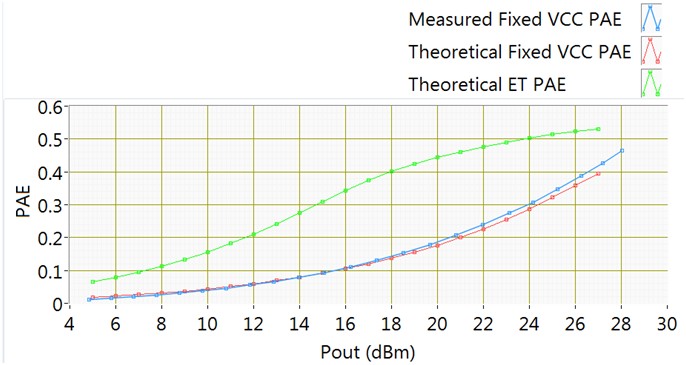 Figure 4 Measured and theoretical PAE for fixed and ET Vcc with test case 1 W-CDMA waveform.
While ET promises considerable efficiency improvements, one must be aware that there are many tradeoffs involved with ET PA design. In fact, optimizing for one parameter will require tradeoffs of other parameters in the system. As a result, the design process of choosing the optimal Vcc levels for a given output power is highly iterative and necessitates the ability to quickly and reliably test design decisions.