FET and SSR devices help reduce cost in automated test systems by lowering up-front cost, increasing switch system lifetime, and minimizing test times.
The compact size of FETs and SSRs helps reduce the up-front cost of PXI switch systems. The cost of a PXI switch module is based on the cost of relay components, back-end circuitry, and materials such as the printed circuit board (PCB) that are used to build the module. The small form factor of FETs and SSRs facilitates the building of very high-density single-slot PXI switch modules. This helps reduce the number of PXI modules, and, consequently, PXI slots used in a chassis, when building high-density switch systems such as those used in semiconductor validation testers. By using fewer modules, you incur less expense on raw materials and the back-end architecture. The PXI-2535 544-crosspoint matrix is an example of a very-high-density PXI switch module built using FET technology.
The unlimited mechanical lifetime and faster switching speeds of FET switches also help minimize costs in test systems. Consider the example of a system that is used to conduct 10 tests on a chip with 500 I/O points. The chip is used in numerous devices and its cumulative sales are estimated at 1 million per month. The test system, which is built using a single NI PXI-4130 source measure unit (SMU) and a switching front end that is used to route all 500 points to the SMU, is required to run continuously without interruption. The cost comparison of using an FET-based switch product versus an electromechanical relay-based product is as follows.
Using the 50,000 channels per second scanning speed of the PXI-2535 544-crosspoint FET switch, you can test all 1 million chips in less than 12 days. Because FETs have unlimited mechanical lifetime, you incur no switch module replacement costs during the process.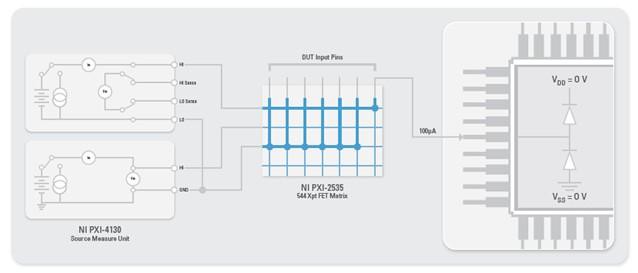 Figure 4. Chip testing with SMU and 544-Crosspoint FET Switch
If you used an electromechanical relay-based switch module with the same density, expenses would be much higher. Electromechanical relays have a typical lifetime of 1 million closures and speed of 250 channels per second. Because each relay is closed 10 million times during the process of testing all 1 million chips, the relay module needs to be replaced 10 times. This would increase the total expenses incurred on maintaining the system. The slower speed of electromechanical relays also adds costs in comparison to the FET-based solution. The time taken to test 1 million chips using electromechanical relays is 231 days. Thus using electromechanical relays would add the cost of maintaining and running a production floor for 219 additional days in comparison to the FET-based module. Longer test times also introduce challenges when managing inventory and shipping products to customers.
While hypothetical, this example shows the real cost savings you can achieve due to the benefits of FET and SSR technology.