Traditional benchtop oscilloscopes are optimized to meet the needs of design engineers who primarily use the instrument interactively and prioritize features such as time to first measurement, waveform visualization, and connectivity to a wide array of probes. Although newer box oscilloscopes improve on this experience by adding features such as higher bandwidth and turnkey software for analyzing bus protocols, they often fail to address the needs of engineers building automated test systems or high-channel-count, high-speed measurement systems. These engineers need to acquire and analyze a large set of data in an automated fashion, and typically prioritize things such as integration with other instruments, size, programming experience, and data throughput or execution time. Because of these unique needs, many of these users are moving toward a modular platform that provides the measurement performance of traditional box oscilloscopes in a form factor that is optimized for their application.
NI provides the widest range of modular oscilloscopes in the PXI platform, so you can optimize your system for cost, density, measurement resolution, or sampling rate. Figure 1 below plots the sampling rate and resolution of various NI oscilloscopes. The blue I/O points represent software-defined oscilloscopes that are programmed using the NI-SCOPE instrument driver, while the yellow I/O points represent FPGA-based digitizers that use the NI reconfigurable I/O (RIO) architecture.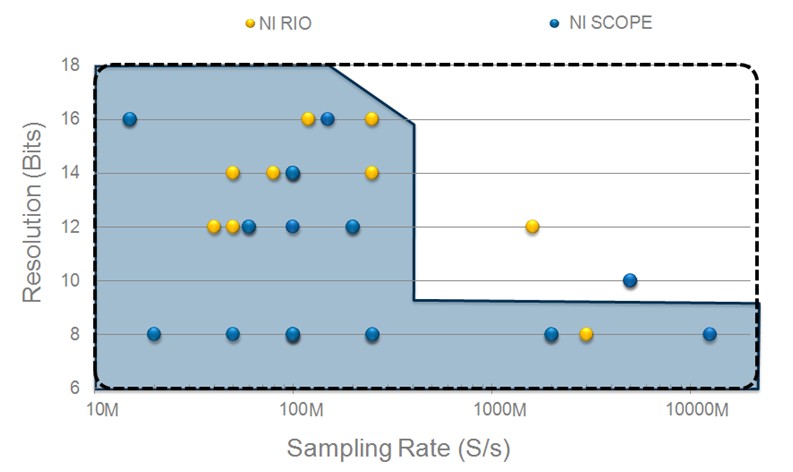 Figure 1. NI oscilloscopes have a mix of resolution and high-speed sampling.
Figure 2 details some of the oscilloscope specifications called out in the blue I/O points above. These oscilloscopes provide the measurement capability users expect from a traditional instrument, such as selectable input ranges, input coupling and impedance, filters, and traceable calibration. They also support soft front panels and are programmed with instrument drivers that include prebuilt functions for performing standard oscilloscope measurements such as rise time, frequency, and pulse width or define the functionality through software.

Figure 2. Choose from an extensive portfolio of oscilloscopes.
The FPGA-based digitizers detailed in the yellow I/O points of Figure 1 pair high-speed sampling with a user-accessible FPGA that makes them ideal for onboard signal processing, real-time analysis, or custom trigger implementation.
Figure 3. Define the I/O needed for your application by changing the adapter module. 
NI has a broad range of PXI oscilloscopes and FPGA-based digitizers that are designed for high-channel-count or mixed-signal automated test systems. Even though the specs vary from high resolution to high speed, NI oscilloscopes share several key attributes that optimize them for these applications, including:
 
Tight integration and synchronization with other instruments
The ability to store and stream large amounts of data
High channel density
Custom triggering and onboard signal processing
A comprehensive software experience for quickly taking measurements, programming, and debugging