Even with rugged DAQ hardware, exposing your system to harsh, real-world conditions increases the risk of costly downtime. This risk is amplified for tests that must run 24/7 for days, weeks, months, or even years. Reinforcing the reliability of your system is crucial to minimize problems from unforeseen events such as untimely software updates or network failure.
FieldDAQ helps keep your test running with data link redundancy and real-time OS support. In case of a broken or damaged network connection, ring topologies mitigate the risk of data loss by automatically redirecting data through an alternative route. You can easily achieve a ring topology with FieldDAQ, using the built-in integrated switch to daisy chain multiple units together.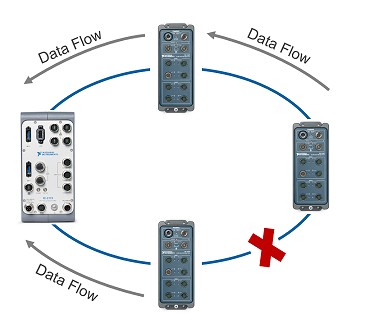 Figure 2. Use FieldDAQ in a ring configuration to mitigate the risk of data loss from a damaged connection.
FieldDAQ lowers the risk of software interruptions due to multitasking with NI Linux Real-Time OS support. General-purpose operating systems must attempt to provide resources and execution time to many different applications, which increases the opportunity and frequency of crashes and other problems. The NI Linux Real-Time OS minimizes the components required to be used, which reduces the probability of system failures. You can connect FieldDAQ to a variety of Linux real-time hosts including Industrial Controllers, CompactDAQ, and CompactRIO.