Creating a start trigger begins with the Task Configuration Pane. By default, a measurement panel shows the Channel pane. The Channel pane is where you configure the virtual channel for your data acquisition, which includes the physical channel (the terminal or pin at which you measure or generate an analog signal), the name of your channel, the type of measurement, and scaling information. To configure timing and triggering, switch to the Task pane. A task is a collection of one or more virtual channels including timing, triggering, and other properties. Conceptually, the task represents the measurement you want to perform.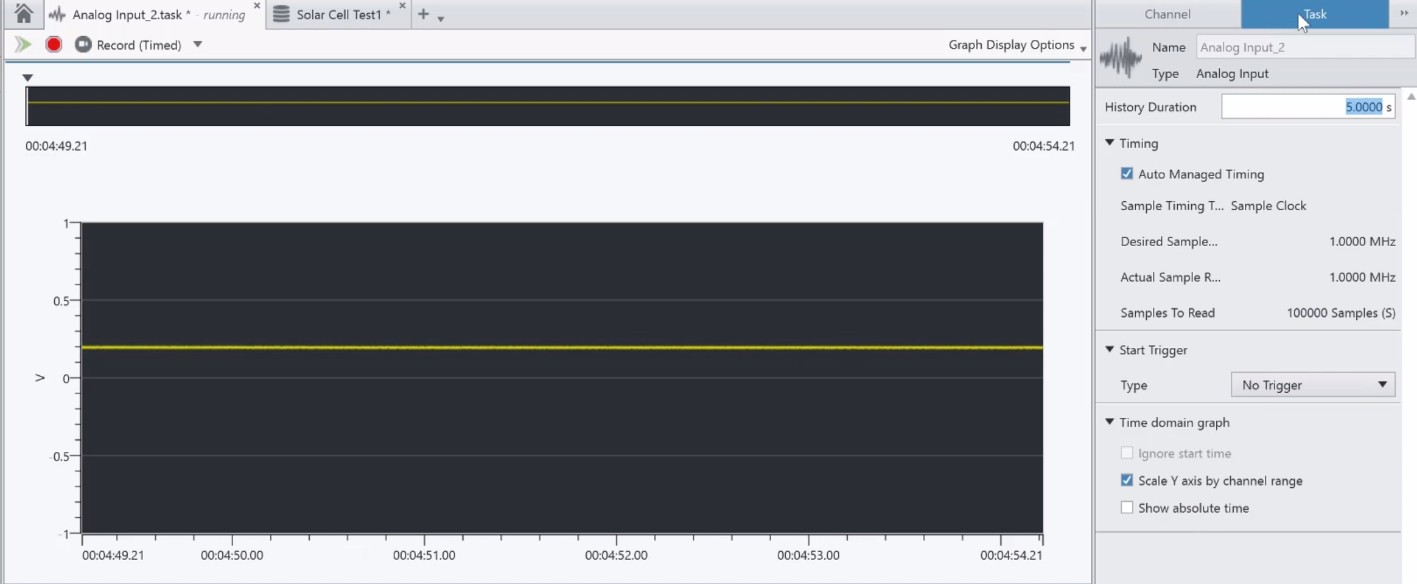 In the Task properties, configure the timing for your acquisition by un-checking Auto Managed Timing. Here, you can choose the sample rate and the number of samples you would like to read during the acquisition. Be sure to choose a sample rate that is high enough to accurately read the signal you're trying to measure (10x faster than the signal is recommended). Check the manual for your DAQ device to learn the maximum sample rate for your device.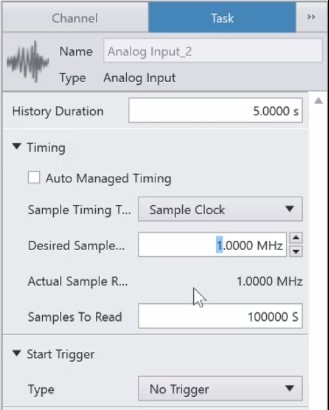 In the Start Trigger section, change the Type from No Trigger to Digital Edge Trigger. Choose the Source of your trigger signal. The full list of digital inputs available to your DAQ device will be displayed - choose the digital line that connects to your desired trigger signal. Finally, choose the Edge of the signal that you would like to use as your trigger. For a digital signal like a push-button, the trigger can be the rising edge (LOW to HIGH) or falling edge (HIGH to LOW).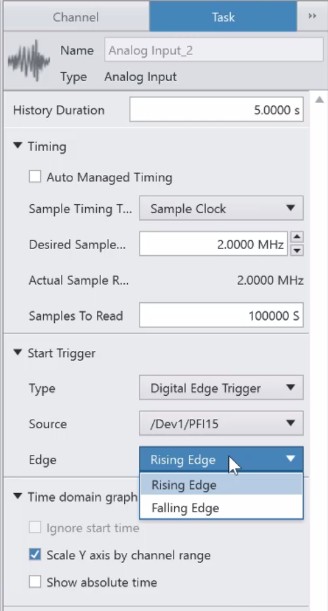 To test your trigger, start your acquisition. Your measurement panel should remain blank. Next, perform the digital event you configured as your trigger. Your acquisition will begin.