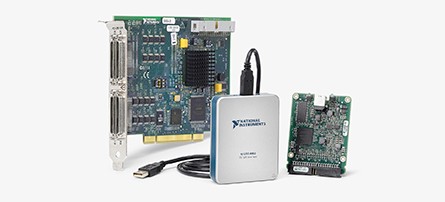 I/O, Logic Levels, and Form Factors for a Broad Range of Applications
Digital I/O hardware includes options for a wide range of channel counts, voltage logic levels, and form factors, including USB, PCI, PCI Express, and remote I/O. With this variety, you can choose hardware to handle all the signal types you need.
Industrial Digital Output Sensor Compatibility
Digital output sensors and actuators driven by digital signals are popular across several industries. NI digital I/O hardware includes options for different sinking and sourcing outputs, off-state leakage current, minimum holding current, and other key parameters.
Reconfigurable Digital Inputs and Digital Outputs
Reconfigurable digital I/O products offer advanced functionality, such as multirate sampling and individual channel triggering, because of the onboard FPGA. You can customize these models with the LabVIEW FPGA Module.