Because Switch Executive is based on IVI, the developer can combine many different switch modules in the test system, making the development of the system easier and faster, while offering full interchangeability should the module a developer is using become obsolete. IVI is a key technology in the modern test architecture and it is important to confirm with a switch vendor that his/her product is shipped with an IVI-compliant driver prior to purchase. Most manufacturers, such as NI, Pickering, Ascor, Racal, and Agilent, include IVI drivers with their switch modules.

Figure 5 below illustrates how IVI provides the IVI Class Driver layer so the development environment can call a common interface that in turn calls the correct instrument driver for the specific hardware.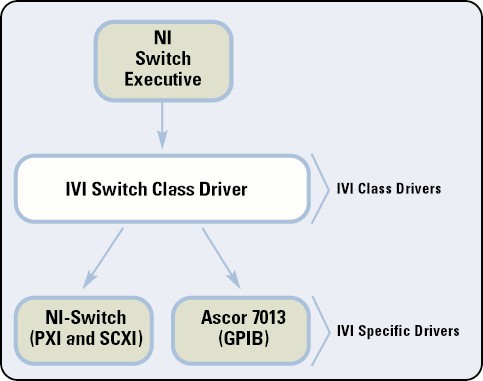 Figure 5.
Implementing IVI Delivers Interchangeability of Switches

There are many platforms available for switch hardware, the most common today being PXI, GPIB, SCXI, and VXI. With Switch Executive, all of these types of switch modules can operate together, provided they have either IVI or NI-SWITCH drivers.

VXI and GPIB devices often provide the largest packaging for switching and may offer larger switching arrays, although the comparative cost per relay is normally substantially higher. The alternative to these bulky, slow solutions is to implement a number of PXI or SCXI units together to form a single "virtual" switch. Switch Executive makes the task of developing larger switch configurations substantially easier with the implementation of hard wires into the system description. Previously, if a developer tried to extend the rows or columns from one module to another, he or she had to program it into the code, making it very difficult to understand and debug. With Switch Executive, the hard wires are defined separately and the automatic routing simply integrates the hard wires into the path at design time, saving time and money from development through to deployment.

An advantage of the PXI and SCXI platform is that it has been designed specifically to carry modular switching systems that developers can easily expand. For example, with the NI PXI-2532B matrix switch module and TB-2643B terminal block, users can connect multiple modules together with ribbon cables. This simple accessory accomplishes in seconds what would otherwise take hours to create by hand using individual wires, while eliminating any possibility of error in the wiring. Figure 6 depicts three NI PXI-2532B switch modules connected using this method.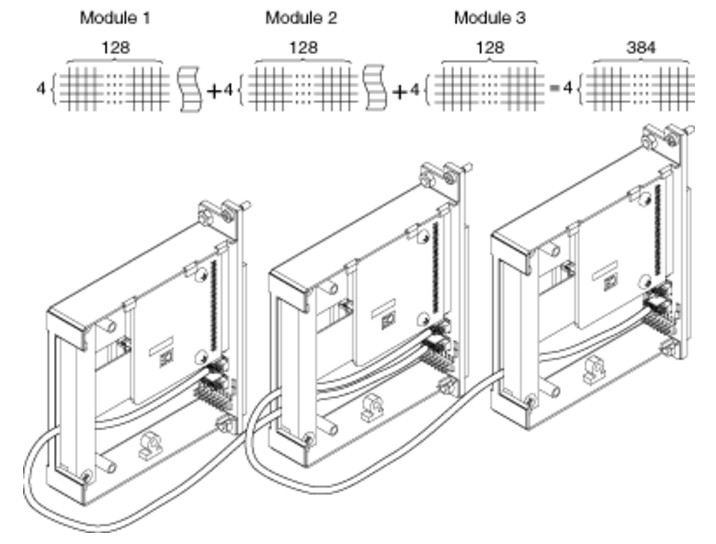 Figure 6. Using multiple PXI-2532B matrix switch modules and TB-2643B terminal blocks substantially reduces wiring in the test system.