Wi-Fi data acquisition is an extension of PC-based data acquisition to measurement applications where wiring is difficult or cost-prohibitive. Wi-Fi data acquisition (DAQ) devices combine IEEE 802.11 wireless or Ethernet communication, direct sensor connectivity, and the flexibility of NI-DAQmx software for remote monitoring of electrical, physical, mechanical, and acoustic signals. The NI cDAQ-9191 holds a single C Series module and is capable of streaming continuous waveform data on each channel at more than 50 kS/s with 24 bits of resolution.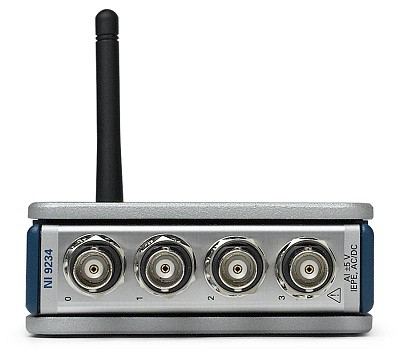 Figure 1. The NI cDAQ-9191 streams continuous waveform data back to a host computer.
In addition, built-in NIST-approved 128-bit AES encryption and advanced IEEE 802.1X network authentication offer the highest commercially available network security (WPA2 Enterprise). With the flexibility of the NI software platform, including LabVIEW, and the ubiquity of 802.11 network infrastructure, it's easy to incorporate the NI cDAQ-9191 and wireless connectivity into new or existing PC-based measurement or control systems.
NI WLS-9163 and C Series Hardware
Each NI Wi-Fi DAQ device is a combination of an NI WLS-9163 wireless carrier and an NI C Series signal conditioning module. The WLS-9163 provides both IEEE 802.11b/g and Ethernet connectivity back to a host PC.
Figure 2. Each Wi-Fi NI CompactDAQ device combines an NI cDAQ-9191 chassis and an NI C Series module to provide wireless sensor measurements.
C Series modules offer direct sensor connections, NIST-traceable calibration, and built-in signal conditioning for a variety of measurements, including temperature, high-voltage digital I/O, strain, acceleration, current, and voltage. In addition to the NI cDAQ-9191 wireless chassis, you can use C Series modules interchangeably for measurement and control applications with different chassis, including 4- and 8-slot NI CompactDAQ chassis and CompactRIO, as well as the NI USB-9171 single module chassis and NI cDAQ-9181 Ethernet chassis. 
Secure Wireless Data Acquisition
Wi-Fi NI CompactDAQ devices implement the highest commercially available wireless network security standard, IEEE 802.11i (commonly known as WPA2 Enterprise), including IEEE 802.1X network authentication and 128-bit AES data encryption. Authentication ensures that only authorized devices have network access, and encryption prevents data packets from being intercepted. Accepted worldwide, IEEE 802.11i security standards build on more than 10 years of wireless innovation in the IT sector. By using standard security protocols, NI Wi-Fi DAQ devices make it easy to add wireless measurements to IT networks safely.
Streaming Wireless Measurements with NI-DAQmx Software
After more than 20 years of helping engineers and scientists achieve high-quality PC-based data acquisition, NI-DAQmx driver software continues to be the heart of the National Instruments data acquisition platform. Recognizing the diversity of measurement applications, NI approaches data acquisition independent of specific PC bus technologies. You can use the same NI-DAQmx API for communicating across PCI, PCI Express, PXI, PXI Express, USB, Ethernet, and Wi-Fi. This means you can use an application developed for a USB data acquisition device (even a high-speed application) with a wireless data acquisition device without making any changes to the software.
Figure 3. NI-DAQmx driver software abstracts data acquisition bus technology from the user and provides a consistent API across multiple programming languages.
NI Wi-Fi DAQ devices can stream continuous 24-bit waveform data at more than 50 kS/s from multiple measurement channels. Managing this amount of data over a wireless network is a nontrivial task, but NI-DAQmx abstracts the complexity associated with buffered transfers over TCP/IP from the user. With device-side intelligence, message-based communication, and an advanced streaming engine, NI-DAQmx and NI Wi-Fi DAQ provide all the benefits of wireless technology for test and measurement applications without sacrificing the performance or reliability of a wired solution.