LabVIEW already includes a powerful set of tools for analysis. These tools encompass a built-in set of libraries and functions designed specifically for analysis, with which users can address a wide range of applications.
LabVIEW analysis tools cover a broad range of applications. Advanced analysis functions can measure such signal characteristics as total harmonic distortion, impulse response, frequency response, and cross-power spectrum. Scientists and engineers can also incorporate mathematics or numerical analysis into their applications for purposes such as solving differential equations, optimization, root finding, and other mathematical problems.
Although users can develop these functions themselves, built-in functions make it easy to work quickly on the problem instead of the tools. The advantage of using these functions also eliminates the need to understand the underlying theory required to build such algorithms.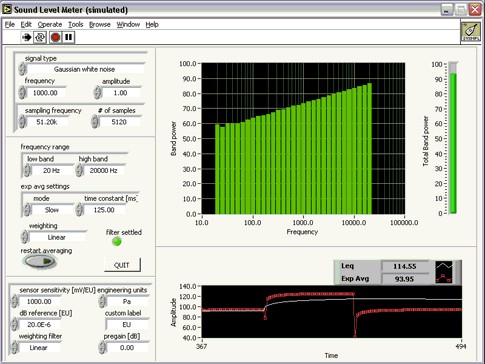 Figure 4. Sound Level Meter Application based on the Sound and Vibration Analysis Toolset
Add-On Tools for Analysis

In addition to the built-in analysis libraries, users rely on add-on toolsets and modules to reduce development time for specialized application needs. By incorporating toolset components into custom applications, users reduce the need for particular expertise commonly associated with development more vertical applications such as advanced digital signal processing, sound and vibration measurements, order analysis, image processing, PID control, and simulation.
Advanced Signal Processing
The Signal Processing Toolset provides functions designed specifically for advanced digital signal processing (DSP). The included functions are divided into three categories: Joint Time-Frequency Analysis, Wavelet Analysis, and Superresolution Spectral Analysis. In addition, the toolset provides a graphical utility with which users can interactively design digital filters.
Joint Time-Frequency Analysis
Unlike conventional analysis technologies, the JTFA (joint time-frequency analysis) routines examine signals in both the time and frequency domains simultaneously. JTFA can be applied in almost all applications in which the FFT is used, such as biomedical signals, radar image processing, vibration analysis, machine testing, and dynamic signal analysis. However, with JTFA you get more information by analyzing the time and frequency domains simultaneously.
Like the classical Fourier analysis, the JTFA consists of two major methods - linear and quadratic. The linear algorithms include short-time Fourier transform (STFT) and Gabor expansion (inverse short-time Fourier transform.) LabVIEW users can take advantage of these linear transforms, to transfer a signal from the time domain into the joint time-frequency domain and vice versa. These routines are extremely powerful for noise reduction purposes. The quadratic methods contain adaptive spectrogram, Choi-Williams distribution, cone-shaped distribution, Gabor expansion-based spectrogram (also known as Gabor spectrogram), STFT-based spectrogram, and Wigner-Ville distribution. Users can apply the quadratic transforms, to easily see how the power spectrum of a signal evolves over time. The Gabor spectrogram results in the best compromise between high resolution and cross-term interference.
Wavelets
Wavelets are a relatively new signal processing method. A wavelet transform is almost always implemented as a bank of filters that decompose a signal into multiple signal bands. It separates and retains the signal features in one or a few of these subbands. Thus, one of the biggest advantages of using the wavelet transform is that signal features can be easily extracted. In many cases, a wavelet transform outperforms the conventional FFT when it comes to feature extraction and noise reduction. Because the wavelet transform can extract signal features, wavelet transforms find many applications in data compression, echo detection, pattern recognition, edge detection, cancellation, speech recognition, texture analysis, and image compression.
Model-based Spectral Analysis
A primary tool for spectral analysis is the Fast Fourier Transform (FFT). For high-resolution spectra, FFT-based methods need a large number of samples. However, in many cases the data set is limited because of a genuine lack of data or because users need to ensure that the spectral characteristics of the signal do not change over the duration of the data record. For cases where the number of data samples is limited, LabVIEW users can use model-based analysis to determine spectral characteristics. Using this technique, users assume a suitable signal model and determine the coefficients of the model. Based on this model, the application can then predict the missing points in the given finite data set to achieve high-resolution spectra. In addition, model-based methods can also be used for estimating the amplitude, phase, damping factor, and frequency of damped sinusoids. Superresolution spectral analysis can be used in diverse applications including biomedical research, economics, geophysics, noise, vibration and speech analysis.
Sound and Vibration Analysis
NI analysis software enables many common sound and vibration analysis applications including audio testing, acoustical measurements, environmental noise testing, vibration analysis, NVH measurements.   Specialized analysis capabilities include ANSI and IEC compliant fractional-octave analysis and zoom power spectra.  In addition, the Sound and Vibration Measurement Suite includes numerous functions for audio measurements such as gain, phase, THD, IMD, dynamic range, phase linearity, and swept-sine analysis.
Functions include full, 1/3, 1/6, 1/12 and 1/24 octave; user-defined sampling frequency; user-defined number of bands; A, B, C weighting in time domain; standards compliance; exponential averaging (Slow, Fast, and Custom time constant); cross-power spectrum; frequency response (H1, H2, and H3); coherence; and coherent output power. In addition, the toolset provides additional visualization tools such as waterfall graph, colormap graph, octave bar graph, and octave line graph that can be easily built into the front panels of LabVIEW applications.
Order Analysis
The NI Sound and Vibration Measurement Suite provides libraries to build custom LabVIEW-based measurement and automation applications with order analysis capabilities for order tracking, order extraction, and tachometer signal processing.
With the Gabor Order Tracking algorithm, LabVIEW users can analyze sound, vibration, and other dynamic signals from mechanical systems with rotating or reciprocating components. It offers flexible order energy selection in the joint time-frequency domain. Additional tools include plotting individual order(s) versus time or rpm, order extraction tools to separate order-specific signal components from the acquired signal, automatic order selection tools to find and specify the most significant orders, and user-specified order selection for analysis .