Wavelet analysis is appropriate for characterizing machine vibration signatures with narrow band-width frequencies lasting for a short time period.  For example, a cooling tower during a speed change may produce a transient vibration measurement signal from its bearings, footing, shaft or other mechanical components.  Another area where wavelet analysis is used is testing and monitoring of low RPM gear boxes such as those in wind turbines and locomotives. 
Wavelets are used as the reference in wavelet analysis and are defined as signals with two properties: admissibility and regularity.  Admissibility means that a wavelet reference, or mother wavelet, must have a band-pass-limited spectrum.  Admissibility also means that wavelets must have a zero average in the time domain which implies that wavelets must be oscillatory.  Regularity means that wavelets have some smoothness and concentration in both the time and frequency domains, which means that wavelets are oscillatory and compact signals. 
As comparison, sine waves oscillate along the time axis forever in time without any decay, which means they are not compact.  In other words, sine waves do not have any concentration in the time domain.  On the other hand, sine waves have extreme concentration in frequency domain.  Sine waves have maximum resolution in frequency domain but no resolution in time domain.
Wavelets have limited bandwidth in the frequency domain and compact bandwidth in the time domain.  So, wavelets have a good concentration and resolution trade-off between the time and frequency domain. Figure 12 depicts the differences between a sine wave and a wavelet in both time and frequency domains. 

Figure 12.  The frequency domain of a sine wave is very compact while the time domain is not.  A wavelet is compact in both the time and frequency domain.
Wavelet Analysis then makes use of thousands of predefined wavelets.  The vibration signal is then run through pattern matching algorithms which compares the signal to the known library of wavelets representing different phenomena such as knocks and spikes of different frequencies, amplitudes and durations.  The pattern matching algorithms will then return a coefficient indicating the "goodness" of the match.  A high coefficient indicates a good wavelet match and thus can be used to indicate a transient or noise impulse.
An example use of wavelets is the detection of engine knock in a diesel engine.  Diesel engines can develop engine knock based on poor fuel, improper timing, or low engine compression.  Engine knock can result in poor fuel efficiency, excessive engine vibration, or damage to the piston. 
Measuring the combustion signature with an accelerometer or dynamic pressure transducer allows for examination of the combustion waveform.  However, as engine knock is a non-stationary transient event, it is hard to distinguish in the time waveform or the typical FFT spectrum.  However, the wavelet filter isolates the knock signature so that it is more easily detected in the time domain. 
Figure 13 shows the time waveform of the diesel combustion cylinder of a normal engine and that of an engine with engine knock malfunctions.  With the use of the wavelet filter, the engine knock is isolated and available in the time domain.  Limits can then be used in the time domain to identify and count engine knocks.  As the frequency of engine knocks increases, corrective action may be justified.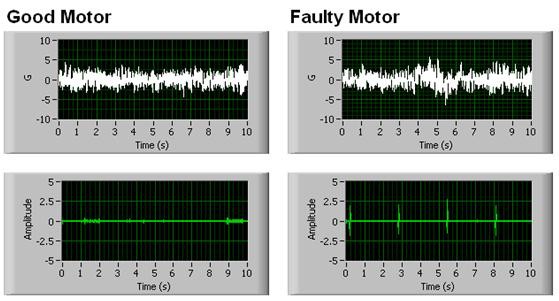 Figure 13.  In the time domain the good motor is indistinguishable from the faulty motor, but using wavelet analysis the faults readily become apparent.
Wavelets are also finding use in monitoring of industrial gearbox such as those in helicopter or wind energy applications.  Wavelets in these applications enhance the impact phenomena of cracked, broken, and missing gear teeth.