In the previous section, you learned about bandwidth, which is one of the most important specifications of a oscilloscope. However, high bandwidth can be much less useful if the sample rate is insufficient.


While bandwidth describes the highest frequency sine wave that can be digitized with minimal attenuation, sample rate is simply the rate at which the analog-to-digital converter (ADC) in the oscilloscope is clocked to digitize the incoming signal. Bear in mind that sample rate and bandwidth are not directly related. However, there is a rule of thumb for the desired relationship between these two important specifications:
Oscilloscope real-time sample rate = 3 to 4 times oscilloscope's bandwidth
Nyquist theorem states that to avoid aliasing, the sample rate of a scope needs to be at least twice as fast as the highest frequency component in the signal being measured. However, sampling at just twice the highest frequency component is not enough to accurately reproduce time-domain signals. To accurately digitize the incoming signal, the scopes's real-time sample rate should be at least three to four times its bandwidth. To understand why, look at the figure below and think about which digitized signal you would rather see on your oscilloscope.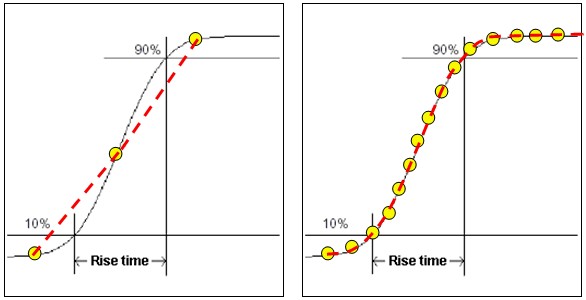 Figure 3: The figure on the right shows a digitizer with a sufficiently high sample rate to accurately reconstruct the signal, which will result in more accurate measurements.
Although the actual signal passed through the front-end analog circuitry is the same in both cases, the image on the left is under sampled, which distorts the digitized signal. On the other hand, the image on the right has enough sample points to accurately reconstruct the signal, which will result in a more accurate measurement. Since a clean representation of the signal is important for time domain applications such as rise time, overshoot, or other pulse measurements, an oscilloscope with a higher sample is beneficial for these applications.