When choosing vision software, you must determine whether the software tools can correctly and accurately measure important part or object features down to the subpixel. If the software is not accurate and reliable, then it does not matter how fast your computer is or how many pixels your camera has. Keep in mind that it is much easier to make accurate code faster than to make fast code more accurate.

Vision Development Module and Vision Builder AI include hundreds of accurate and reliable vision functions. The five most common machine vision application areas are listed below along with the most popular algorithms.


Enhancing an image – Use filtering tools to sharpen edges, remove noise, or extract frequency information. Use image calibration tools to remove nonlinear and perspective errors caused by lens distortion and camera placement. You also can use the image calibration tools to apply real-world units to your measurements, so the tools return values in microns, millimeters, or miles instead of pixels.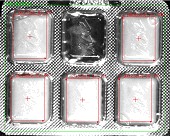 Checking for presence – This is the simplest type of vision inspection. To check for part or feature presence, you can use any of the color, pattern-matching, or histogram tools. A presence check always results in a yes/no or pass/fail.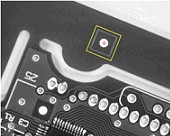 Locating features – Locating features is important when aligning objects or determining exact object placement, serving as a standard for all subsequent inspections. Edge detection, grey-scale pattern matching, shape matching, geometric matching, and color pattern matching are all tools you can use to locate features. The tools return the object position (X, Y) and rotation angle down to one-tenth of a pixel. Geometric matching is immune to overlapping objects or objects that change in scale.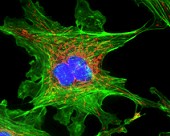 Measuring features – The most common reason to use a vision system is to take a measurement. Typically, you use edge detection, particle analysis, and geometric function tools to measure distance, diameter, total count, angles, and area. Whether you are calculating the total number of cells under a microscope or the angle between two brake-caliper edges, these tools always return a number instead of a location or pass/fail value.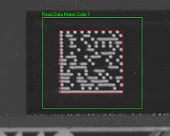 Identifying parts – Part identification is important for part compliance, tracking, and verification. Straightforward identification methods include reading a bar code or data code such as DataMatrix and PDF 417. Newer methods use trainable OCR or object classification. Part identification often results in text or a string rather than a measurement or a pass/fail determination.





All of the Vision Development Module and Vision Builder AI functions take advantage of subpixel accuracy to interpolate locations, distances, and measurements down to one-tenth of a pixel and one-tenth of a degree.

To learn about NI vision algorithm capabilities, how they work, and how best to use them, refer to the NI Vision Concepts Manual.