The VI Metrics tool, included in the LabVIEW Professional Development System (PDS), provides measurements for LabVIEW code. The VI Metrics tool can count the number of LabVIEW nodes used within any VI or hierarchy of VIs. A node is almost any object on the block diagram, including functions, VIs, and structures, such as loops and sequences, but excluding labels and graphics. Nodes are similar to statements, operators, functions and subroutines in text-based languages. Like many traditional software metrics applied to text-based programming languages, node count is a size-based metric that can be used to estimate software complexity.

In LabVIEW PDS, the VI Metrics tool can be launched by clicking Tools»Advanced»VI Metrics.... The VI Metrics tool also provides other information, such as the number of global and local reads and writes and the number of diagrams. Figure 1 below shows a VI Metrics window for a VI named Memory Monitor. In this example, VI Metrics displays the total number of nodes in the entire hierarchy of VIs, as well as the number of nodes in each individual VI.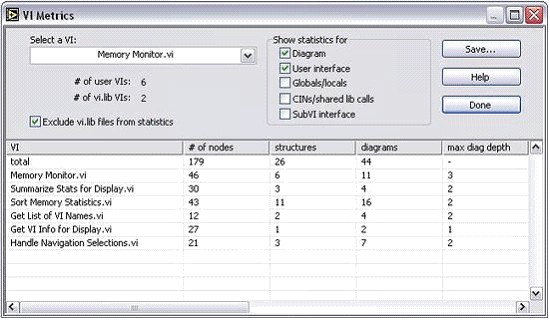 Figure 1
. The
VI Metrics
window shows several statistics, including use of nodes.