A variety of instrumentation buses are available for stand-alone instruments including GPIB, USB, LAN including LXI, and serial. The various instrumentation buses have differing strengths making some more suitable for certain applications than others. With GPIB, users benefit from a proven instrumentation bus technology and a wide variety of available instrumentation.  USB provides you with the benefits of the wide availability, easy connectivity, and high throughput. With LAN/LXI, users are able to support distributed needs and address distance needs.  Providing 80 MB/s maximum shared bandwidth, the modular VMEbus has served military/aerospace applications well with specialized instrumentation.  The widespread modular PCI bus, an internal PC bus, benefits from PC ubiquity and provides low latency and high bandwidth at 132 MB/s.  PCI Express, an evolution of PCI, meets growing bandwidth needs while still providing complete software compatibility with PCI.  PCI Express provides dedicated bandwidth, unlike PCI, to each device through a basic communication lane of 250 Mbytes/s in each direction up to 4 Gbytes/s. 
The open VXI platform builds on the VMEbus by providing additional timing and synchronization lines.  In a similar way, the open PXI platform builds on the PCI bus by adding modular Eurocard packaging, specialized synchronization buses, and key software features.  PXI is both a high-performance and low-cost platform for test and measurement applications.  In addition, PXI integrates PCI Express in the backplane with PXI Express, increasing the available bandwidth from 132 MB/s to 6 GB/s for a more than 45X improvement. Already heavily used as a platform for modular instrumentation, PXI, with this enhanced performance, can reach into many new application areas, many of which were previously only served by expensive and proprietary hardware. 
Standalone instruments can be beneficial in that they might provide specialized functionality or performance.  These instruments, however, are vendor-defined, proprietary instruments.  As a result, developers will face limited integration and expandability and are forced to work with a proprietary software model.  With modular instrumentation buses, developers can take advantage of open, multi-vendor standards and software flexibility to create a user-defined solution for their specific application needs. Modular instrumentation buses provide higher throughput and lower latency in comparison to stand-alone instrumentation buses. This allows users to meet many application needs including high-speed data streaming or high channel count. By taking advantage of an open software model and PC processing power, users can extract all measurements needed from the data provided by modular instruments. This gives users the flexibility to design a system with the specific components required and to scale the application when needed.  As a result, when designing hybrid systems, it is often appropriate to use PXI as the computing center due to its timing and synchronization capabilities and low latency to measurement devices.  In addition, it also has a high Windows native slot count, which allows you to add buses and access them from the PC without the need for special drivers.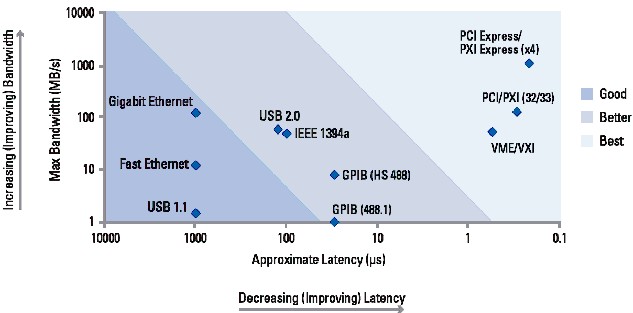 Figure 3.  Bandwidth and latency comparison of various buses.

In conclusion, with the wealth of buses and platforms available, hybrid systems allow you to combine them to suit your specific needs.  Hybrid systems provide increased flexibility by allowing you to select the specific instruments for your system regardless of the bus and to expand the system as system requirements change.  In addition, hybrid systems help you to extend test system longevity by enabling you to use older equipment with newer technology and minimizing the impact of maintenance and upgrades.  As a result, hybrid systems are a beneficial approach to designing test systems.