Theory of thermocouple operation
Thermocouples operate under the principle known as the Seebeck effect. When two wires made of dissimilar metals are joined and heated at one end, a thermoelectric circuit is formed that causes a measurable voltage differential known as the Seebeck voltage at the "cold" end. A given pairing of metals varies in temperature range, sensitivity, and error based on the properties of those metals.
Figure 1: Illustration of the Seebeck Effect
Each type of thermocouple consists of a unique pairing of metals. You need to understand the operating specifications of the thermocouple type you select for your temperature measurement. Some thermocouples offer a wide temperature range at the expense of a very nonlinear voltage-temperature relationship, while others provide a smaller (but more linear) temperature range.
Thermocouple types
As mentioned above, you can choose from a variety of thermocouple types and constructions. Types are generally defined by a letter designation, for example, E, J, or K. The thermocouple type defines the metals used to create the thermocouple; therefore, it also defines the operating range, accuracy, and linearity of the thermocouple. The following graphs depict the voltage response of various thermocouple types over a range of temperatures.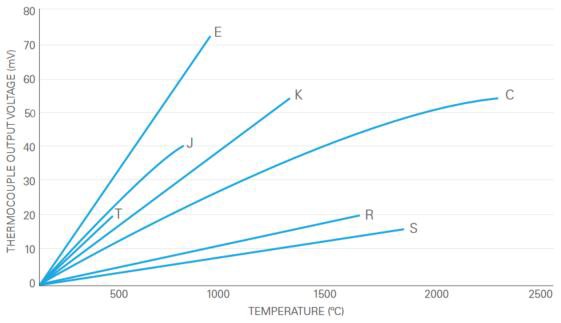 Figure 2: Temperature Response of Different Thermocouple Types
In addition to the type of thermocouple, you must choose a sheathing configuration. Some of these options are shown in Figure 3, including grounding, isolated, sealed, and exposed .
Figure 3: Options for Thermocouple Sheathing
Each configuration has advantages and disadvantages regarding response time, noise immunity, and safety. Table 1 gives an overview of the impact of each configuration option.
Junction Configuration

Advantages

Disadvantages

Exposed

Fastest response (~0.1 s to 2 s)

Ground loop and noise potential

no chemical  protection

most prone to physical damage

Exposed Bead

Fast response (~15 s)

Ground loop and noise potential

no chemical  protection

prone to physical damage

Sealed and Grounded

Physical and chemical protection

Slow response (~40 s)

Ground loop and noise potential

Sealed and Isolated

Physical and chemical protection

electrical protection (avoids ground loops and noise)

Slowest response (~75 s)
Table 1: Overview of Thermocouple Junction Configurations