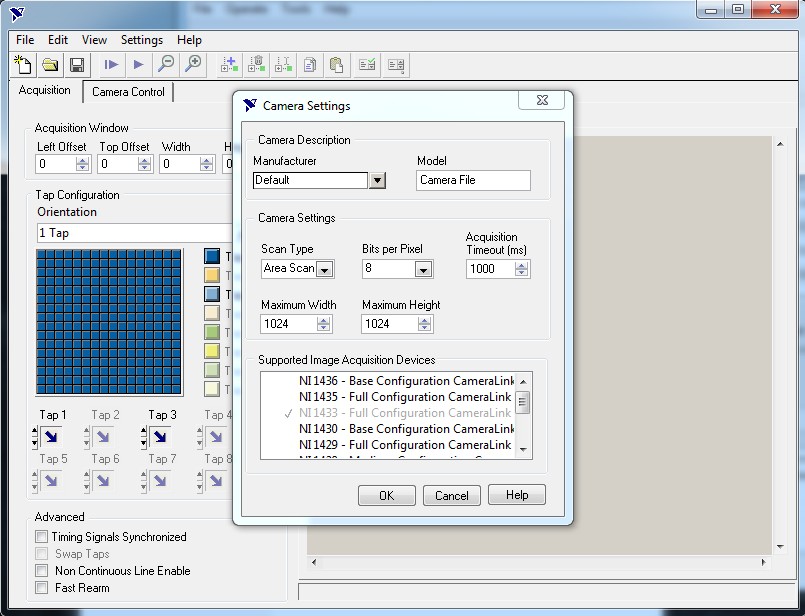 The main things you will need to specify in the camera file to start acquiring are the following:
Manufacturer: Type in the name of Manufacturer and Model. This will be the name of your camera file so make sure is it specific.
Camera Settings:
Scan Type: Area Scan or Line Scan camera.
Bits per Pixel: Default Pixel Depth supported by the camera. This information can be found in the camera's manual or using the vendor's utility software. A later  section will explain how to use attributes to modify the camera's bit depth.
Maximum Width and Maximum Height: Resolution of the camera can be found in the Camera's manual or datasheet. A later  section will explain how to use attributes to modify the camera's image size to support binning for example.
Supported Image Acquisition Devices: Select the Frame Grabbers you would like to use this camera with. Make sure that your Frame Grabber is compatible with your camera
As an example, let's create a camera file for the Baumer HXC20 camera.
We already know it's an area scan camera, so let's find the default bits per pixel and maximum width and height of the camera in the camera's user manual:
Bits per pixel: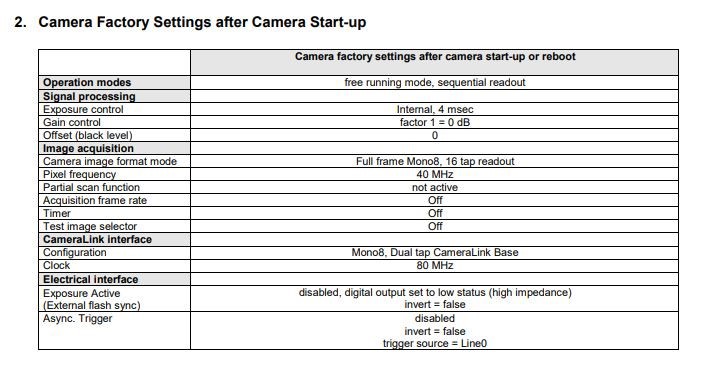 The default bits per pixel is Mono8 which stands for Monochrome 8 bit.
Default Width and Height should be listed in the datasheet:

With this information, we can fill in the camera settings: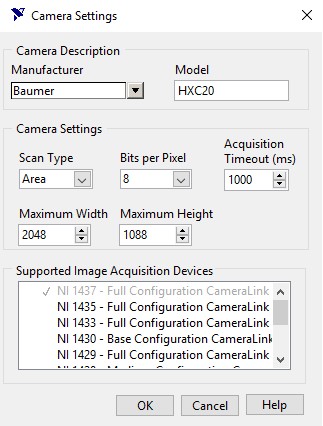 Press OK to choose your tap geometry. To learn more about how to configure this dialog or other settings in Camera File Generator, click the Help button. You can also access it from the top toolbar Help > Online Help.
You can also use the camera's vendor software utility to verify the settings of the camera to ensure it matches the settings of the camera file.