The world economy will greatly change in the next decade as new Internet-enabled applications are rolled out. Some of these applications are likely to be disruptive and innovative as well as have a large economic impact. This will affect many industries and sectors, as already seen in consumer sectors like hotels (Airbnb) and taxis (Uber).
This trend is also noticeable in the industry, for example, Germany's Industry 4.0 initiative. Within Industry 4.0 or the Industrial IoT (IIoT), the focus is on integration and better use of existing technologies. In this sense, industry, machines, products, and people are all digitally connected. Manufacturers are mass producing bespoke products in quantities of one. Intelligent software in the cloud connects enterprise IT systems with the operational world, machines, devices, and sensors to control and optimize production flow.

Figure 1 – Common Architecture of the Industrial IoT: Intelligent Edge Nodes Connect Sensors, Actuators and Devices to IT Systems
Because of the decrease in cost of connectivity, processing devices and sensors adoption of IIoT has grown tremendously. Sensor data can be captured and preprocessed close to the machines by a smart edge device such as a CompactRIO or a PXI automated test system. The edge device can send the data in real time to the virtual world (IT cloud platform) where it can be stored, monitored, and analyzed or trigger an action.
The value of the IIoT is not in the connectivity of the devices, but in what a company unlocks from the stream of data the smart devices supply. Cloud computing platforms and their services help provide this insight.
Many significant challenges need to be taken into account when implementing an IoT solution. Challenges such as standardization, interoperability, Big Analog Data™ handling, security, and privacy. It is important to be aware of these challenges and give special care to security. Security is a crucial component for any IoT application. IIoT devices should enforce a strong security policy and be updated regularly with the latest security patches. To learn more about best practices for security on CompactRIO and receive the latest security announcements from NI, visit ni.com/support/security. All cloud computing platforms securely send and receive data, use strong authentication and authorization methods, and use encryption. The majority also have audit capabilities.
Cloud Computing
Cloud computing refers to a flexible way of delivering hardware, software, or data resources via the network on a user's request. This is opposite to the use of running a software application on a local computer.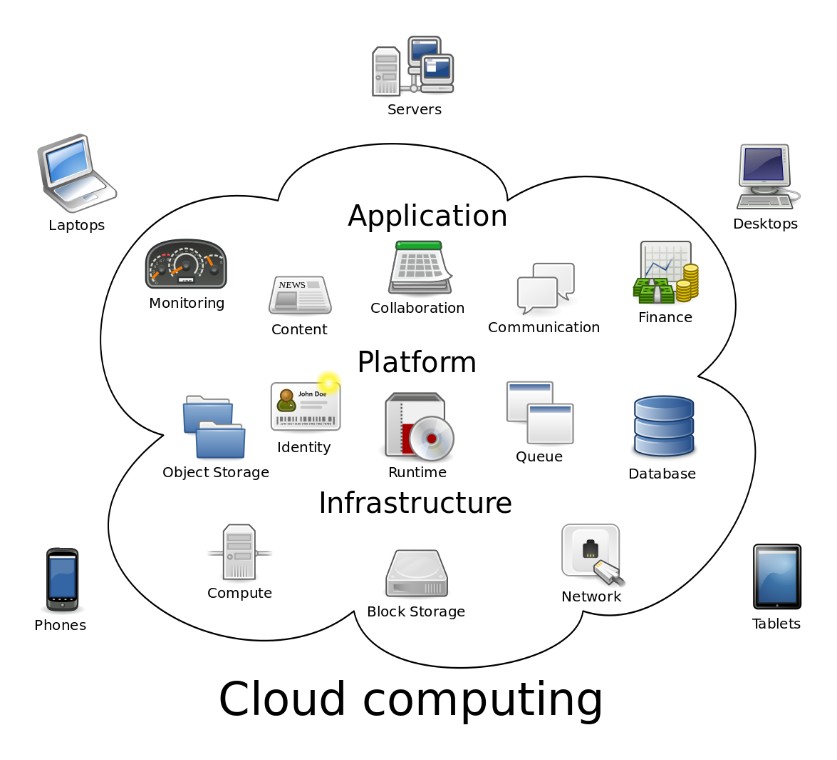 Figure 2 - Overview of Cloud Computing Elements (image source: Sam Johnston https://commons.wikimedia.org/wiki/File:Cloud_computing.svg)
The table below shows three service levels of cloud computing that are commonly encountered.
| | | |
| --- | --- | --- |
| SaaS | Software as a Service | Provides a full business service. The service provider runs and manages the complete platform. Examples: Gmail, Salesforce.com |
| PaaS | Platform as a Service | Provides a platform. You need to build and deploy your own cloud application, leveraging the run time and services the vendor provides. Examples: IBM Bluemix, Microsoft Azure, AWS IoT |
| IaaS | Infrastructure as a Service | Provides the basic building blocks such as server hardware, storage, and network capabilities. You may need to install the OS and applications. Examples: Amazon EC2 (a virtual machine that Amazon provides to you), IBM SoftLayer |
Clouds can be deployed as public—all services run in a secure environment hosted in the cloud, where servers may be shared with others—or private, which is available only to the user's organization and may exist on or off premises. In addition, clouds can be deployed as hybrids, where parts are on premises and other services are in the cloud.
IoT Application Protocols
Communication protocols are responsible for the network connectivity to the server. Protocols like Wi-Fi, Ethernet, cellular, and LoRaWAN are all communication protocols that provide this level of connectivity. Application protocols sit on top of them to communicate application-specific messages.
Multiple standards handle the communication between devices and the cloud. As application requirements differ, specific IoT protocols have been developed and therefore the confusion is understandable. Protocols may even have multiple implementations and IoT platforms may have proprietary IoT solutions. To provide a universal solution, devices, applications, and platforms need to be interoperable. NI embedded systems provide an excellent solution by being open and flexible. This success is achieved through the NI Linux Real-Time OS, support for LabVIEW graphical and C/C++ programming environments, as well as several Linux packages available through the vibrant ecosystem.
At a high level, there are three main use cases for the application protocols: device to device (D2D or M2M), device to server (D2S), and server to server (S2S) communication. IoT application protocols have different levels of real-time behavior and other characteristics. The table below provides an overview.
Common Application Protocols for IoT Connectivity
| | | | | | |
| --- | --- | --- | --- | --- | --- |
|   | HTTP/HTTPS | WebSocket | DDS | MQTT | AMQP |
| Description | Transmit data over Internet from applications, websites, and so on | Transmit data over Internet from applications, websites, and so on | Communication bus to connect intelligent machines | Lightweight protocol for collecting data and publishing it to servers and subscribers | Queue system to reliably transfer messages between applications and processes (servers) |
| Typical Use Case | Web | Web | D2D | D2S | S2S, (D2S) |
| Real-Time Behavior | No | No | Yes, us–ms range | No, ms–s range | No, seconds range |
| Messaging | Request/Response | Request/Response | Databus | Publish/Subscribe | Publish/Subscribe |
| Transport | TCP | TCP | TCP, UDP, shared memory, and so on | TCP | TCP |
| Security | Yes: HTTPS (SSL or TLS) | Yes: wss:// (SSL/TLS) | Yes | Possible: SSL or TLS | Yes: TLS or SASL (Simple authentication and Security layer) |
| LabVIEW Support | Yes, native | Yes, via VI Package Manager (MediaMongrels) | Yes, via VI Package Manager (RTI) | Yes, Implementations on VI Package Manager, LabVIEW Tools Network, and GitHub | Implementations on VI Package Manager (LabbitMQ) and GitHub |
| Quality of Service | No | No | Yes, over 20 levels | Yes, 3 levels | Yes |
The next section describes the most common protocols, MQTT, AMQP and DDS, in further detail.