RAID 0: Striped Set without Parity (Requires Minimum 2 Disks) – Data is equally divided into fragments across a number of disks.  The maximum read and write rates of the RAID array is theoretically equal to the number of drives in the array and the read and write rate of an individual drive. This is because the data is equally split and written to or read from all disks simultaneously.  While this is the fastest RAID configuration, if any one drive fails, the entire array is corrupted and no  data can be recovered.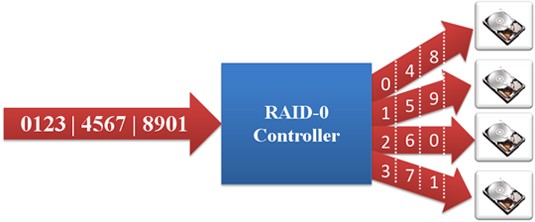 RAID 1: Mirrored Set (Requires Even Number, Minimum 2 Disks) – Focuses only on redundancy. Data is mirrored across all the drives in the RAID array. The read and write performance of a array configured as RAID 1 is the same as  the read or write performance an individual drive.  The array however offers the highest reliability as it continues operates as long as one drive is functioning.

RAID 5:  Striped Set (Requires Minimum 3 Disks) with Distributed Parity – Parity information is stored on the drives allowing the reconstruction of the array if one disk fails. The parity information is rotated through all disks.  Performance increase is just below RAID 0 but increased fault protection makes RAID 5 an ideal choice over RAID 0.
RAID 6: Double distributed parity. Similar to RAID 5 it stripes blocks of data and parity across an array of drives like RAID 5, except that is calculates two set of parity information for each set of data. RAID 6 can withstand multiple drive failures.   
RAID 1+0 (also called RAID 10):
RAID levels can be nested in order to increase performance while providing redundancy. RAID 1+0 mirrors the data first, and then stripes them.  This allows for a performance increase, with the added feature of fault tolerance.
RAID 0+1 (RAID 01):
RAID 01 is similar to RAID 10 except that the RAID levels are reversed. RAID01 stripes the data first and then mirrors them.  The performance increase is similar to that of RAID0, with the added feature of redundancy.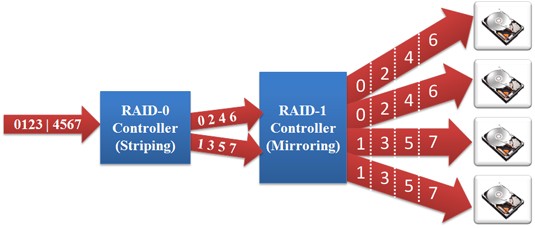 The following table summaries the different RAID configurations.
RAID mode
Min. number of drives
Description
Advantages
Disadvantages
0
2 drives
Data striping
Fastest speeds
Data is lost if one drive fails
1
2 drives
Disk mirroring
Highest reliability
No read or write performance improvement
5
3 drives
Block-level data striping with distributed parity
Very fast speeds and high reliability, best performance vs reliability compromise
Write speeds slower than RAID 0
6
4 drives
Block-level data striping with double distributed parity
Can withstand multiple drive failures
Writes speeds slower than RAID 5

1+0

0+1

4 drives
Combination of mirroring and striping
Fast speeds and high reliability
High costs, minimum of 4 drives required