Most RF systems use coaxial cables for signal transmission. The three main parts of a coaxial cable are its center conductor, outer shell, and dielectric which acts as an electrical insulator by preventing the current dissipation between the center conductor and outer shell (see figure 1). Because coaxial cables contain the propagating electromagnetic signal on their insides (the inner conductor in the figure below), they do not radiate noise and are less susceptible to picking up other signals that may persist in the vicinity.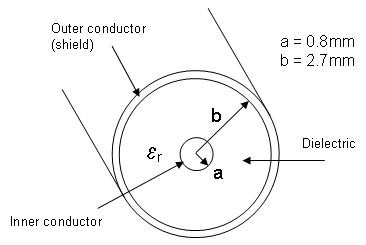 Figure 1. Example of a coaxial cable
There are several properties of coaxial cables that can affect system performance. These include cable attenuation, cutoff frequency, and characteristic impedance.
Cable Attenuation
The total attenuation that a cable will impose on a signal that it is being used to route depends on its conductive and dielectric loss. Conductive loss which is also referred to as 'resistive loss' or 'ohmic loss' in turn depends on:
a. The metal used to build the coaxial cable (usually copper or silver due to their high conductivity)
b. Diameter of the cable's center and outer conductors
One way of reducing conductive loss in an RF system is to use a cable with a larger diameter. Larger cables contain more metal for conducting current and therefore offer less attenuation per unit length than smaller ones.
It is also important to note that the amount of conductive loss introduced by the cable depends on the frequency of the signal it is being used to route. As frequency increases, current density tends to concentrate near the outer surface of the inner conductor and the inner surface of the outer conductor (a phenomenon known as 'skin effect'). This causes conductive losses in any cable to increase in a manner that is directly proportional to the square root of frequency of the signal of interest.
In addition to conductive losses, power is also dissipated in the dielectric (the material between center and outer conductors) of the cable. This type of power loss is referred to as 'dielectric loss'. For coaxial cables, dielectric loss is linearly dependant on frequency and proportional to the square root of the dielectric constant (or permittivity) of the material used between the center and outer conductors of the cable. At frequencies above several GHz, dielectric losses can become more significant than conductive losses.
The combination of conductive loss and dielectric loss in a cable is commonly referred to as its 'attenuation factor' which is usually expressed in terms of dB per length of cable. Values for attenuation factor are typically listed in the cable manufacturer's data sheet. Cables with larger diameters typically exhibit lower loss and are capable of transmitting higher power levels than smaller ones.
Cutoff Frequency
Cutoff frequency is the maximum frequency up to which a cable can be used. Above its cut off frequency, a cable will significantly deteriorate the quality of a signal that passes through it. A cable's cutoff frequency is inversely proportional its diameter. Hence, smaller cables can operate at higher frequencies than larger ones. For all practical purposes however, even larger diameter cables which have diameters of ½" have cutoff frequencies well above 10 GHz. Hence, for most switching systems, cutoff frequency is less of a concern than cable attenuation.
Characteristic Impedance
In order to ensure maximum power transfer from source to load in RF systems, the characteristic impedance of the cable should match that of the source and load. Most RF switching equipment is designed to have a characteristic impedance of either 50 or 75 Ω (for communications and video applications, respectively). Similarly, cables are specifically designed for these two impedances as well. Characteristic impedance of a cable is based on it's per- unit- length resistance, conductance, capacitance and inductance, which in turn are dependent on the cable's physical dimensions as well as the dielectric used to separate the two conductors. Common materials used for the dielectric are PTFE (Teflon®, a registered trademark of DuPont) and polyethylene. The formula to calculate the characteristic impedance of the cable shown in Figure 1 is:

If we assume that

which is the relative permittivity of the dielectric (dielectric constant) is 2.1 we calculate characteristic impedance of this cable to be 50.3 Ω.

As can be seen, the characteristic impedance of the above cable can be easily changed by changing its symmetry (i.e. changing lengths of inner and outer conductors) or by changing the material of the dielectric.
The dielectric constant of the material used will also determine the velocity factor, or the speed at which a wave propagates down a cable. The velocity factor is usually expressed as a percentage of the speed of light.
Propagation Velocity (m/s) = Velocity Factor x (3 x 10­8)
Construction Quality
Construction and quality of materials used will naturally affect performance of a cable. Better quality material will naturally improve performance of the transmission line or cable, but it will also be more expensive.
All coaxial cables are manufactured with either a solid or stranded center conductor. Both variations have their strengths and weaknesses. A stranded center conductor allows for a more flexible cable that will last longer due to lower stresses on the cable and connectors. On the other hand, cables with solid center conductors are typically cheaper to manufacture and exhibit lower attenuation per unit length than stranded cables. 
In addition to the construction of the center conductor, insulation on the outer conductor or the lack there of can also affect losses in the cable. For example, semi-rigid cable types, which have a solid insulating outer shield, often have the best isolation specifications of all cable types. As a result of this high isolation, semi-rigid cables are ideal for RF systems that function in noisy environments.
The materials used to construct a cable also determine its minimum and maximum operating temperatures. Some cable types are designed to operate outdoors or be buried, while others are not. Care should be taken when designing a test system to ensure that the cables used in the system are capable of withstanding the environmental conditions they will be subjected to.