The Race Is On
The need for speed is crucial to advancing the next generation of wireless communications. Evolving from 3G to 4G, we've seen information from around the world reach our phones in seconds. Especially as machines like vehicles and the devices in our homes and buildings get smarter, we'll need to communicate with them even more reliably without glitches in performance. With the 5G evolution, we can expect greater bandwidth, higher frequencies, and lower latency, which will ultimately deliver data to devices faster and cultivate unimagined, new 5G applications in medicine, autonomous vehicles, manufacturing sectors, and more where real-time responses are critical.
The race to the next generations of Gs is accelerating. While the term 5G still seems rather new, you've probably already heard about 6G networks. With this whirlwind pace of innovation, you might be left wondering: What is 6G? When will 6G come out? How fast is 6G?
A recent Testing 1, 2, 3 podcast episode featured Jennifer Alvarez, CEO of Aurora Insight, an IT company that uses its proprietary technology to measure the radio frequency spectrum. She answered some of our most pressing questions on connectivity, the differences of 5G vs. 6G, and how test makes new wireless systems and networks a reality.
Despite the promise of more capabilities and applications, each network iteration also involves new sets of challenges in terms of test to ensure that the technology is flawlessly delivered to our hands. Alvarez stressed, "5G is not just enhanced 4G or an incremental evolution. It's really a major change." Even with advancement, each network has its own pro and cons. 5G's higher frequency provides greater data carrying capacity but less coverage since higher frequencies have millimeter waves that don't travel as far nor penetrate materials as well. This limitation necessitates being closer to the 5G transmitter for a device to receive the signal and to test it. Physical constraints like these might not be an issue if a user wants to send a command from their cell phone to their vehicle, for example. But the signal could be limiting for other applications, such as a base station trying to communicate with a receiver when a building is in the way. 
Planning Across the Spectrum
Test is responsible for providing data on performance such as gaps in coverage or signal loss under certain conditions. Aurora Insight created an agnostic network using sensing technology to cover a range of frequencies and collect consistent, independent measurements on wireless networks across the spectrum, from 3G and up. The Aurora Insight technology also measures performance across the Internet of Things (IoT), Wi-Fi, and radar technologies, and installs sensors at both mobile and fixed locations. The sensors can be affixed to vehicles or planes and become mobile test devices that monitor areas over time—which can be particularly useful in vast, rural areas.

Processing the data in a software-based cloud environment rather than relying on hardware for test and measurement offers even more flexibility to get insights from the technology at work. This wireless insight is extremely helpful for the complicated planning process for telecommunications and mobile networks as well as for companies that want to optimize network performance. Alvarez explained, "With our real-world measurements of the radio frequency environment, we can help companies plan and organize how they're going to deploy their new networks, and more importantly, their new spectrum."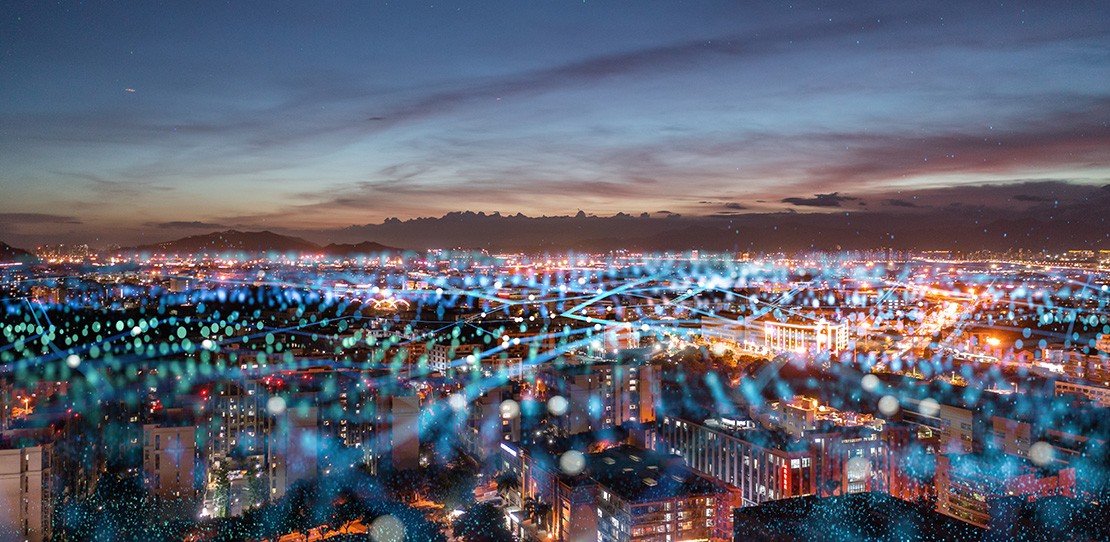 Test validates the performance of these frequencies, and ensuring performance plays a huge role in commercialization, widespread deployment, and making new communications technologies more accessible. As consumers, we've traveled down the street, out of state, or even out of the country and probably still experienced reliable service. Modern phones have the capability to switch from different technologies and frequency bands, and companies and regulatory bodies like the Federal Communications Commission (FCC) do a lot behind the scenes to create this seamless wireless experience.
Alvarez and Jeremy McKinney, an associate attorney specializing in intellectual property at Dunlap Codding, explained in the podcast that mobile networks are regulated and licensed by area and frequency. McKinney detailed how "standard essential patents" require that everyone using a network comply to certain technical standards, which helps achieve interoperability and benefits consumers. Technical standards make it easier for wireless companies to work together so that your mobile device can make "handoff connections" more easily when your data moves from tower to tower or network to network. 
Future-Proofing Test to Transition to 6G
As seen with early deployments in China, Europe, and the United States, 5G is still proliferating across the world and beyond—some companies are even working on 5G-based stations in space. Aurora Insight knows its technology needs to keep up with the rapid pace of innovation of the spectrum. We'll see higher frequencies and lower latency with 5G vs. 6G speed, but we'll also be faced with even greater complexity. We can expect more artificial intelligence (AI) capabilities and edge processing to be integrated into the 6G network. This edge processing includes activities like collecting, aggregating, and analyzing data in the physical device or local environment. Alvarez said that testing the various components and structures of electronics without perturbing the system will get more complicated.
In the transition to 6G and what's ahead, Alvarez and her company are finding ways to future-proof their methodologies by continuing to test all frequencies so that devices with both legacy or emerging technologies can coexist in different applications and services, which will eliminate complexities and allow each spectrum to continue being useful to society.
Hear more from Jennifer Alvarez and Jeremy McKinney about what will be needed to make the technological leap to next-generation wireless communications in the full podcast episode on Testing 1, 2, 3.