The following document describes the process for remote development, debugging and deployment of an application intended to run on the Windows Embedded Standard 7 (WES7) operating system on a CompactRIO, specifically the cRIO 9081 or the cRIO 9082. Since this process is significantly different from remote development for CompactRIOs with real-time operating systems, it is recommended that you first consider Local Application Development on Windows based CompactRIO. With local development, you install the LabVIEW development tools on the CompactRIO target with a remote FPGA compilation server.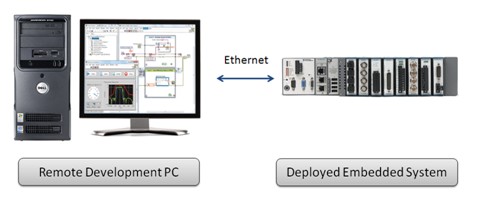 With remote development for CompactRIO, you use a PC with LabVIEW installed to create an application and then deploy the application across the network to the CompactRIO embedded system.
If developing on the deployment target is not feasible for your application, use this document to learn the process for remote development for Windows based CompactRIO targets. Once you configure your target, there are three development steps:
 
Managing Targets in the LabVIEW Project Explorer
Debugging Your Windows and FPGA VIs
Executing Your VIs on the CompactRIO

To help you learn this different process, this document will step you through how to configure your system, the development process, and the deployment options. See the linked documents for additional information and clarification on any of the processes described in this tutorial.
To learn more about Windows-based CompactRIO applications, refer to Getting Started with CompactRIO Hardware and LabVIEW.