Use this dialog box to specify the structure of the text file. DIAdem separates the text file into lines to which you assign a meaning. Resize the dialog box to enlarge the table in the bottom part of the dialog box. You can also move the separation lines to change the width of the table columns.

The breakdown of this dialog box is as follows:
File formatter:
Character encoding – specifies how to read the file. By default DIAdem is set to automatic which can distinguish from ASCII and Unicode. If you need to read a Japanese text select Shift-Jis.
Wordwrap – End of Line character
Skip:
Blank Lines – Selecting this option will skip all blank lines throughout the data file.
Line starts with – Entering text here will skip all lines that begin with the entry
File Structure:
This is where you really specify the structure of your file. Once you set up all of the parameters, DIAdem will use the DataPlugin to read in every file type with the same extension that is configured in the same way. 
Type – This is where you tell DIAdem how to interpret the lines. Here you can differentiate what properties have been defined at the group or channel level and where the data of the file begins. You set the type by using the drop down menu for each line.

Set properties at the group level. 

Set properties at the channel level. 


Specify what is data. If you specify a line as Data, the DataPlugin Wizard specifies all subsequent lines as Data type, until the end of the file. 
If this is set DIAdem will not evaluate data in these rows




Use if the group channel properties may vary in length. DIAdem will repeat the type of the previous line until DIAdem reads in the text that was defined where the Repeat until was set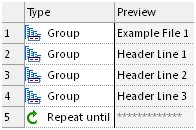 For example, if you have a file with a varying header length that ends when you see a row of asterisks, you specify the type of the rows before the line of asterisks and then set the type of the line of asterisks to Repeat Until. This will indicate to DIAdem that everything before this line of asterisks is associated with a particular file level you set.
You could then load in a data file that has the same exact file structure, except it has 6

total header lines as seen to the right.  The DataPlugin you created will adapt to set all 6 lines to a group level property. DIAdem will assign any extra lines that were not defined in the original DataPlugin as a generic Noname property.