Data parallelism is a programming technique for splitting a large data set into smaller chunks that can be operated on in parallel. After the data has been processed, it is combined back into a single data set. With this technique, programmers can modify a process that typically would not be capable of utilizing multicore processing power, so that it can efficiently use all processing power available.
Consider the scenario in Figure 1, which illustrates a large data set being operated on by a single processor. In this scenario, the other three CPU cores available are idle while the first processor solely bears the load of processing the entire data set.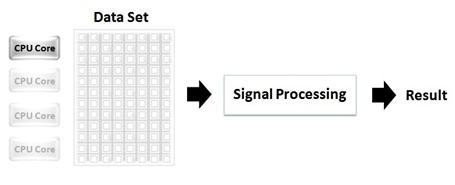 Figure 1. In traditional programming methods, a large data set is processed on a single CPU core, while the other CPU cores remain idle.
Now consider the implementation shown in Figure 2, which uses data parallelism to fully harness the processing power offered by a quad-core processor. In this case, the large data set is broken into four subsets. Each subset is assigned to an individual core for processing. After processing is complete, these subsets are rejoined into a single full data set.

Figure 2. By using the programming technique of data parallelism, a large data set can be processed in parallel on multiple CPU cores.
The graphical programming paradigm of NI LabVIEW is ideal for parallel data architectures. Parallel processing in NI LabVIEW is intuitive and simple, in contrast to traditional text-based languages, which require advanced programming knowledge to create a multithreaded application.