ENOB of an oscilloscope is the actual measurement resolution after you have accounted for the distortion, noise effects, and spurs of the instrument. ENOB gives a much more accurate representation of the measurement performance of an oscilloscope than the resolution printed on the front panel or in the data sheet and is calculated directly from the signal-to-noise-and-distortion (SINAD) specification. Noise and device spurs are embedded into the measurements your oscilloscope takes and add voltage offsets and frequency components that are not part of the signal of interest.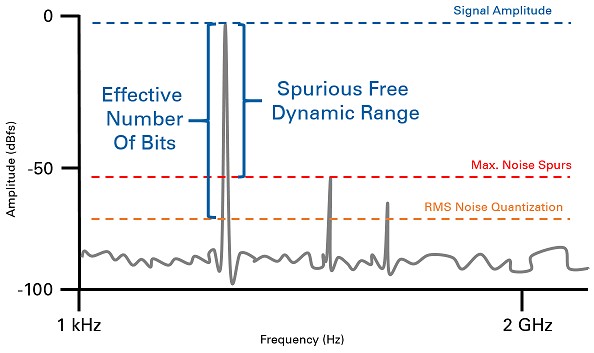 Figure 1. Effective number of bits (ENOB) is a measure of oscilloscope resolution that takes noise and spurs of the instrument into account.
Don't trust the resolution number on your oscilloscope's front panel
Instrument vendors can improve ENOB by using cutting-edge analog-to-digital converters with very low noise density and implementing advanced algorithms for data correction. When choosing a new oscilloscope look for one with a high ENOB, SINAD, or spurious free dynamic range (SFDR) specification to get the best measurement performance. The PXIe-5171R oscilloscope from NI is an example of a 14-bit oscilloscope that has relatively high ENOB (11-bit). NI also offers the industry-leading PXI-5922 flex resolution oscilloscope with 16 to 24-bit resolution and unparalleled spectral performance of up to 105 dB SINAD.
Learn more about calculating ENOB and SFDR in the white paper, Understanding Frequency Performance Specifications.