The native LabVIEW FPGA interface to DRAM is through memory items. This interface gracefully abstracts away the low-level complexity of communicating with the physical DRAM on the device, arbitrating competing requests for DRAM resources, and segmenting the memory for maximum usage flexibility. The result is a simple interface to write to and read from DRAM.
DRAM memory items are created globally in the Project Explorer. To create a DRAM memory item, right-click on your FPGA target and select New»Memory. Then, select "DRAM" for the implementation. A memory item targets a single DRAM bank and, provided that there are no other memory items allocated to the selected DRAM bank, can be as large as the entire bank.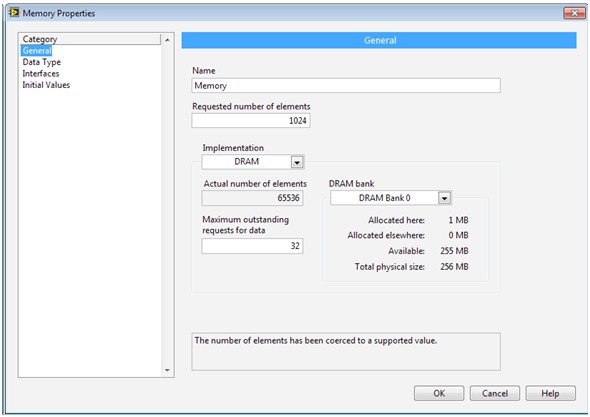 Figure 1. Use the Memory Properties window to configure the DRAM memory item size, data type, and DRAM bank.

You can also segment the full DRAM space into smaller memories that can be accessed independently from different sections of the LabVIEW FPGA code by creating multiple memory items that use the same DRAM bank. LabVIEW automatically handles the arbitration code and gives all of the resulting interfaces equal access to DRAM. The figure below shows the logic that LabVIEW generates to provide access to a given DRAM bank.
Figure 2. LabVIEW has built-in arbitration schemes to handle multiple interfaces to DRAM.