From 8:00 PM - 11:59 PM CST on Friday, April 28, ni.com will be undergoing system upgrades that may result in temporary service interruption. We appreciate your patience as we improve our online experience.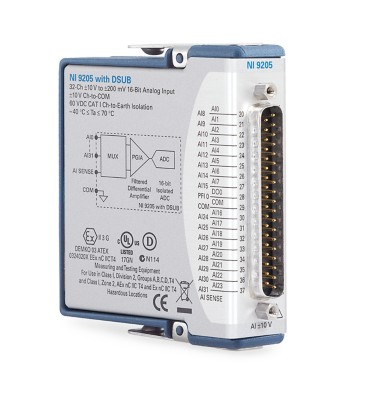 NI-9205
(C Series Voltage Input Module)
±10 V, 250 kS/s, 16-Bit, 32-Channel C Series Voltage Input Module—The NI‑9205 performs single-ended or differential analog inputs, with four programmable input ranges for each. It is an effective combination of channel count and speed at a low price for an economical multifunction system. You can choose from four programmable input ranges. To protect against signal transients, the NI‑9205 includes up to 60 V of overvoltage protection between input channels and common. In addition, the NI‑9205 also includes a channel-to-earth ground double isolation barrier for safety, noise immunity, and high common-mode voltage range. It is rated for 1,000 Vrms transient overvoltage protection.
Product Support Resources