From 8:00 PM - 11:59 PM CST on Friday, April 28, ni.com will be undergoing system upgrades that may result in temporary service interruption. We appreciate your patience as we improve our online experience.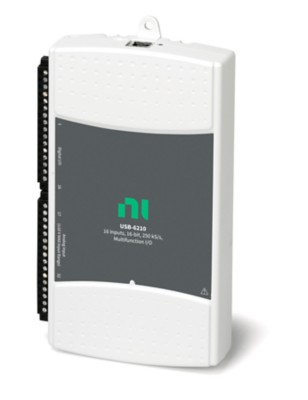 USB-6210
(Multifunction I/O Device)
16 AI (16-Bit, 250 kS/s), 4 DI, 4 DO USB Multifunction I/O Device—The USB‑6210 is a multifunction DAQ device. It offers analog input, digital input, digital output, and two 32‑bit counters. The device provides an onboard amplifier designed for fast settling times at high scanning rates. It also features signal streaming technology that gives you DMA‑like bidirectional high-speed streaming of data across USB. The device is ideal for test, control, and design applications including portable data logging, field monitoring, embedded OEM, in-vehicle data acquisition, and academic. The USB‑6210 features a lightweight mechanical enclosure and is bus powered for easy portability. The included NI‑DAQmx driver and configuration utility simplify configuration and measurements.
Product Support Resources