From 8:00 PM - 11:59 PM CST on Friday, April 28, ni.com will be undergoing system upgrades that may result in temporary service interruption. We appreciate your patience as we improve our online experience.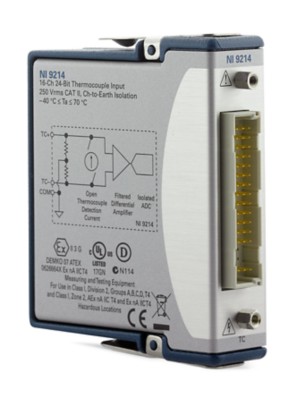 NI-9214
(C Series Temperature Input Module)
16-Channel, 68 S/s Aggregate, ±78 mV, Isothermal C Series Temperature Input Module—The NI‑9214 is a high-density thermocouple input module that is designed for higher channel count systems. The NI‑9214 includes features to increase overall accuracy, such as CJC sensors in the terminal block, component layout to minimize thermal gradients, and an autozero channel for offset error compensation.
Product Support Resources