The two main types of RF switch topologies that exist are multiplexers and general-purpose relays. Together these two kinds of RF switches can be combined to build large intricate switch networks.
General-purpose RF relay modules are usually made up of Form C (SPDT) relays and are usually used to route a signal between 2 places. For example, if a signal needs to be analyzed using an RF analyzer and then broadcasted to multiple locations through an antenna, it can be routed to both locations using a single SPDT relay.
Multiplexers are devices that route several inputs to a single output or vice versa, sequentially. Multiplexers are ideal for increasing the channel-count of complex and expensive instruments such as RF analyzers and generators. One example of where a multiplexer would be useful would be on the production floor to test the functionality of a mass produced RF device such as a cell phone. Let's assume that these devices are tested in batches of 100. In this case, it would be cost-prohibitive to dedicate an RF analyzer for the testing of each individual cell phone as this would require 100 RF instruments which could cost anywhere from a couple of thousand to a few hundred thousand dollars each. Another way to conduct this test would be to manually route all 100 devices one at a time to a single RF instrument. Although this route would be more affordable than having multiple RF instruments, it would increase test times significantly. The best test set up for this particular manufacturer would be to build an automated RF test system that uses a 100x1 multiplexer to automatically route 100 cell phones to the RF analyzer which takes a measurement and stores it in an appropriate manner using software.  
In general, multiplexers can be built using multiple SPDT relays. For this reason, it is common for multiplexers to have higher insertion loss than their SPDT counterparts because the insertion loss of a multiplexer is the sum of the insertion loss of the individual SPDT relays that are contained inside it as well as the insertion loss of the PCB trace that routes the signal between these SPDT relays.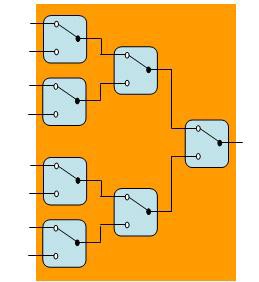 Figure 2. NI PXI-2548 50Ω 2.7 GHz Quad SPDT Relay Module and NI PXI-2547 50Ω 2.7 GHz 8x1 Multiplexer
As can be seen, in the above figure, the number of SPDT relays that a signal has to pass through in the PXI-2548 general-purpose RF switch module is one. Hence the insertion loss of this module is almost equal to the insertion loss of the SPDT relay itself. However, in the case of the PXI-2547, the signal has to travel through 3 SPDTs as well as the PCB traces that connect these SPDTs together. Hence the insertion loss of the PXI-2547 will be more than three times the insertion loss of each individual SPDT relay.
There are a variety of off-the-shelf RF general-purpose and multiplexer switch modules available in the market today. These off-the-shelf solutions are either constructed using coaxial switches more commonly known as 'cans', or using Printed Circuit Board (PCB) relays. Coaxial switches or 'cans' include the entire RF transmission line in their mechanical enclosure. On the other hand, modules built using Form C (SPDT) PCB relays use PCB traces to connect between individual relays which are soldered to the PCB. Although RF switch modules built using PCB relays cost less, they often have higher insertion loss and VSWR specifications than coaxial switches because they use multiple components (i.e. multiple SPDT relays, PCB traces, solder, etc.) to route inputs to a single output.

Figure 3. 6x1 multiplexer created using coaxial switches or 'cans'
Figure 4. 8x1 multiplexer built using seven Form C (SPDT) relays