Activate your student edition of NI LabVIEW and Multisim software in three or fewer simple steps.
Locate your serial number.
You can find your serial number on the product packing slip or on the shipping label as shown below: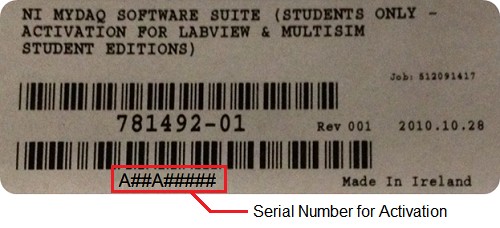 Figure 1:
Locate Serial Number on the Label
The serial number is a 9 character alpha-numeric key activating both the student edition of LabVIEW and Multisim.
Install your software.
When installing LabVIEW and Multisim, you need to provide your serial number. If you enter your serial number during installation, activation is completed over the Internet during the installation process.



If you have installed your software already and did not activate it during the installation, move on to step 3.


Launch the NI Activation Wizard.
Navigate to Start»All Programs»National Instruments»NI License Manager. Once the License Manager has loaded, click the Activate button on the toolbar and follow the on-screen instructions to activate your National Instruments software.


For more information on product activation or to activate your software online, through e-mail, via fax, or over the phone, visit ni.com/activate.