By creating advanced queries with the DataFinder Toolkit, you can create parametric searches to find trends, relationships, and outliers.  Queries built with the following methods can bring back files, groups, and channels.  You can even return channels from multiple files.
To begin an advanced query, build and execute a query as shown in Figure 3.  Use the Create Query VI to modify the settings of the search.  You can specify a particular property and associated value and use operators such as >, <, =, etc.  Once the query is built, execute it and retrieve data by using the Execute Query VI.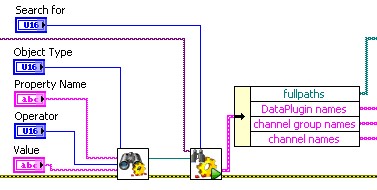 Figure 3: Build and execute a query
For even more specific DataFinder searches, multiple Create Query VIs can be placed and combined with the Merge Queries VI.  As seen in Figure 4, combine the queries by building an array of the query references and pass the array into the Merge Queries VI.  The combination of the queries can be modified by setting the operator as AND or OR.

Figure 4: Merge and execute queries
As with the simple query, the channels of data returned by the results of the executed query can be displayed on a Waveform Graph by using the Results to Waveform VI or read into LabVIEW by reading from the measurement files at the returned file paths.