Specifications
NI HSDIO devices are instrument-class, which means they include detailed specifications that an engineer might expect on comparable high-quality instruments. These devices typically offer features such as eye diagrams, skew specifications, voltage threshold accuracy, and jitter. Figure 1 shows an eye diagram included with the NI PXIe-6548 high-speed digital module.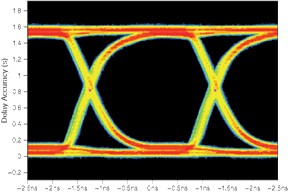 Figure 1. Eye Diagram of the NI PXIe-6548 at 200 Mbit/s
NI-HSDIO Driver Built-In Features
The NI HSDIO driver provides several built-in features for advanced testing, such as data delay for timing calibration and hardware compare for bit error rate testing. Some of these features are listed below.
      Timing
NI HSDIO instruments provide advanced timing capabilities that offer not only general-purpose digital pattern I/O at finer resolutions but also the capability to characterize semiconductor chips by sweeping timing parameters such as clock frequencies or data deskews. Some of the included features are
Data delay on data lines, clocks, and trigger/event lines 1
Source- or system-synchronous clocking
DDS-based internal clock source with sub-Hz resolution (Gundog and Retriever)
RTD compensation (Lab and Gundog)
1The NI PXIe-6547 and NI PXIe-6548 feature three banks of data delay, where independent values of deskew can be applied to three banks of physical channels.
      Comparison and Waveform Control
NI HSDIO devices feature built-in comparison features and additional logic states that enable bit error rate testing and compatibility with semiconductor standard patterns and files such as WGL and STIL. With the hardware compare features, engineers can define generation and comparison patterns for stimulus-response tests where the HSDIO device performs a real-time analysis of the response data and reports errors to the user.
These devices also feature a complex scripting engine that engineers can use to loop and link prestored digital patterns with "zero dead time" or no lag between consecutive waveforms. They also can use scripting to perform analysis statements such as IF and WAIT for applications that require the option of choosing between multiple preloaded waveforms or other complex waveform manipulations.
Some of the comparison features are
Advanced logic states: 1, 0, Z, H, L, X 1
Onboard hardware compare 1
1 NI 655x and NI 6544/45/47/48 only
2 NI 656x and NI 6547/48 only
      Voltage Levels
NI 655x devices feature enhanced voltage ranges and programmability for tests that require nonstandard logic levels or for tests such as voltage threshold testing and diode testing. These features are ideal for semiconductor characterization or general-purpose digital I/O. These voltage-specific features include
-2 to 5.5 V
10 mV programmability
Programmable high and low levels
      Synchronization
NI HSDIO devices feature a synchronization and memory core (SMC) daughter card that allows multiple devices to be synchronized within hundreds of picoseconds. The NI-TCLK API allows intuitive and simple synchronization, making channel expansion for analog or digital instruments trivial. Built-in features also include programmable skew between synchronized instruments, offering enhanced channel-to-channel and board-to-board deskew control. The image below shows three simple VIs that engineers can use to synchronize multiple mixed-signal instruments.

      Software
The NI Digital Waveform Editor is a graphical software tool engineers can use to visualize digital signals and easily create, edit, and modify digital waveforms for customized interfacing and test applications.

Figure 2. Tools such as the Script Editor and Digital Waveform Editor make creating and generating waveforms with driver-defined devices easy.
Using a configurable environment such as NI LabVIEW SignalExpress, engineers can set up and implement a driver-defined digital device with little or no programming to acquire and generate data, log data, perform analysis on acquired data, and generate reports.
TD-Scan for NI is software engineers can use to import standard semiconductor pattern files such as waveform generation language (WGL) and standard test interface language (STIL). TD-Scan for NI software as well as NI HSDIO hardware features such as hardware compare and extended digital states make the process of taking logic and patterns from standard digital pattern files and generating them on hardware simpler.